Warning — Fly fishing is extremely addictive and may cause insomnia, hallucinations, excessive travel, loss of appetite, bankruptcy, recklessness, and has been known to the state of Colorado to raise the unemployment rate. Use our flies with caution.
3 Brothers Flies is about more than fishing. It's about a passion for angling, the outdoors, and the people that make it memorable. It's about lost sleep, cold fingers, and exhaustion all in thrilling pursuit of fish and wings and antlers. It's about highlighting the epic fly fishing in the Driftless and Minnesota's 10,000 lakes, the Northwoods and the Midwest.
This blog is an attempt to help guys catch more fish by sharing how-to posts and local insights on fly fishing, but it's mostly a chronicle of our fishing culture and pursuits.
Our goal is to make your time on the water more productive and enjoyable through good flies, how-to posts, and ramblings on fly fishing. Hopefully you'll catch a few more fish because of it or find something entertaining or helpful. But you'll probably just end up with an urge to go fishing, which, as in most cases, is likely a far better use of your time.
We're not experts and don't claim to be, just passionate anglers with a love for fish, flies, and water. There are dozens of true experts and good sites out there, and while we don't come close to the knowledge or perspective on the fly fishing scene most of them hold, we share a passion for fly fishing and the waters we call home.
We tie our own leaders and flies, shoot our own dubbing, fur, and feathers, and wear leaky waders only when the water's too cold to wet wade without losing feeling in your toes.
We'll often commit fly-fishing treason and unapologetically soak worms (or hot dogs) for walleye and catfish and carp.
"I have always loved to fish, to the point of skipping meals and sitting for hours on end watching a bobber even if the fish aren't biting as a little kid. Fly fishing brings us to great places, allows us to catch amazing fish, and hang out with family. I'll fish for just about anything that swims, and I'm not above going to nymphs and indicators to catch trout. My favorite fishing is probably for bass and trout in remote ponds or streams, and I love sight casting to big bass or dropping a tiny mayfly on a rising trout's nose. Duck hunting is another one of my passions. Waking up to the swamp, and watching ducks dive into your spread, wings locked and feet in-your-face, is a surreal experience."
-Conner, oldest brother
"One of the greatest thrills in the world is catching a fish on a fly rod. I just love delicately casting a small fly over a rising trout, especially when he eats it. I like fishing for trout more than I like fishing for any other fish. Now don't get me wrong, I still think fishing for bass and panfish and other fish are really fun. I just like the colors of the trout and the beauty of the stream."
-Braden, middle brother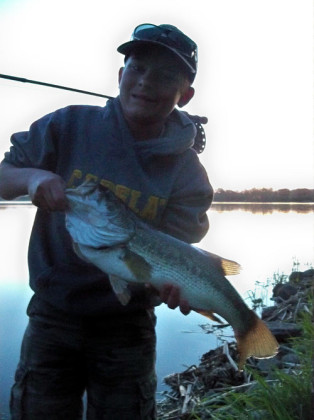 "My passion is fly fishing in all warmwater, especially for panfish and bass. I also enjoy messing around with new fly patterns and have designed a few that produce (like the Noah's minnow and the Pink Punch). I'll also will fish with my spin rods when a fly rod is impractical. The most fun for me is when I tie a new pattern and catch a panfish on my glass 4wt."
-Noah, youngest brother
Thanks for reading and tight lines!
3 Brothers Flies