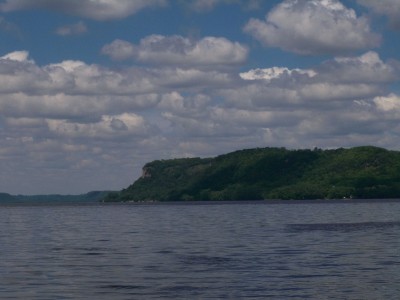 Pepin is a huge natural lake on the Mississippi that straddles the border of southeastern Minnesota and southwestern Wisconsin. Revered for its prolific walleye and sauger fishery, the lake also produces lots of bass (both smallmouth and largemouth), big crappies, and plenty of catfish. This is big water – Lake Pepin is around 21 miles long and encompasses nearly thirty thousand acres of water. The influence of the Mississippi makes it very productive and brings in some interesting fish, like white and yellow bass, sheepshead, gar, and sturgeon.
We hit Pepin for the first time today. We launched late in the afternoon and hopped over to the Wisconsin side. Started trolling a little point with Lindy rigs, and it wasn't too long before Noah hooked the first fish, a little walleye that popped off right at the net. Dad put the next fish in the boat, a sauger of about fifteen inches. Sauger rarely get much bigger than a few pounds (the average fish is around twelve inches), so it was a nice fish. We kept trolling the points and steep breaks, gradually moving shallower as we found more fish. The action was steady, but not crazy. We picked up lots of little walleye and sauger over the next few hours, but nothing too big.
The sauger were a new fish on our species list. These guys are closely related to walleye, but prefer murkier, shallower water and are usually smaller than their walleye cousins. (typically under eighteen inches).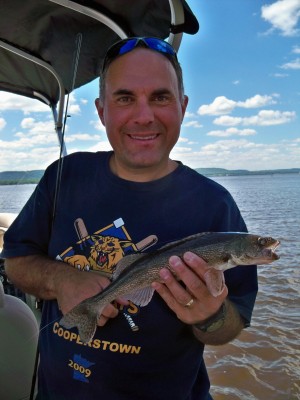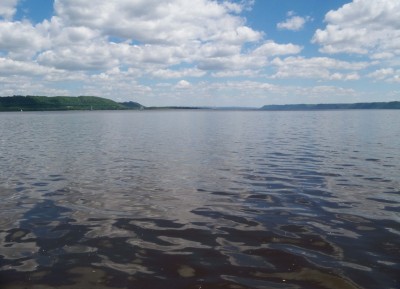 Pepin is one of the most beautiful lakes I've ever fished. It sits right in the middle of the Driftless Area, bordered by towering bluffs. The lake rubs right up against the steep limestone cliffs, with creeks slicing through the valleys and spilling into the lake. Many of these little streams hold trout, and the cold water at the mouth creates a hotspot for all kinds of fish. The bluffs jut right out into the lake, producing lots of interesting points and bars to fish.
We headed back to the MN side and grabbed a quick walleye sandwich from a lakeside restaurant. As we were waiting for our food, Noah and I pitched jigs and crankbaits into the shallows hoping for some bass. Nothing on the jig, but I did manage to pull out a walleye on the crankbait in only about six feet of water! After we downed our sandwiches, we took a drive downstream. We stopped and hit the shallows with lipless cranks and jigs. A creek poured into a shallow, weedy bay with lots of brush, a perfect spot for bass. Sure enough, Braden hooked into a feisty smallmouth that put up quite a battle, leaping straight out of the water four times before making it to the net! I was surprised to find a bronzeback in such a weedy spot, but you never really know what to expect on Pepin.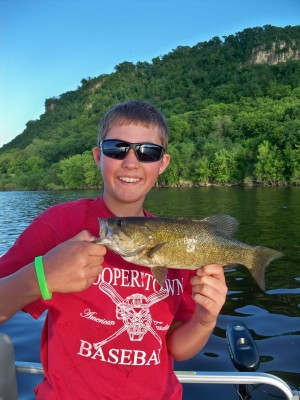 Just before the sun fell below the horizon, we ran into a school of fish crashing bait on the surface. We were motoring around another creek mouth when a fish jumped only about twenty feet from the boat. Braden was right on him, casting his Rattle Trap slightly beyond and to the side of the rings. His Trap got nailed, and after a short but exciting battle he landed his first white bass!
After that it was pure chaos. Fish were erupting on the calm surface and minnows were flying everywhere in the shallows. All of us were furiously throwing our baits into the fray. I switched up my crank for a Rattlin' Rap in light blue to better match what might be shad swimming in the shallows. My Rap got nailed after I cast it to a wake, and I pulled in another smaller white bass, my first. The fish were still frantically pounding the minnows in the shallows. Noah's rod bent over, and a big smallie thrashed on the surface. He played him perfectly and soon had him in the net, a nice bass around 17″!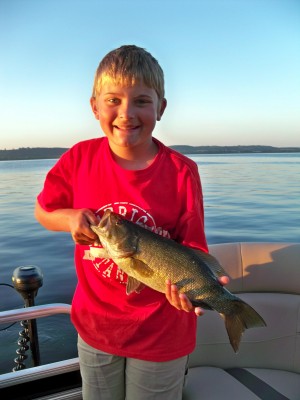 I kept casting my blue Rap into the brawl. Right in the middle of the retrieve my line stopped, a good fish on the other end. I played him for a minute before landing a nice walleye of 20 inches. All of a sudden, it was dead. Just as quickly as it started, it was over. A few fish sporadically jumped, and we kept tossing our Raps, but we didn't get another bite. As we motored back to the launch, a spectacular sunset ended a great day of fishing.
The Bite:
Walleye and Sauger were anywhere from three to eighteen feet of water, but the most consistent depths were about twelve to fifteen feet. I would fish the shallows at first and last light, and hit the deeper water during the day. We got most our fish on Lindy rigs and crawlers.
Creek mouths were hot for bass and had some crazy action right at sunset.