During the past long weekend, we camped on the South Branch of the Root River for a few days of good fishing and hiking. The Root is one of the premier trout streams of southeastern Minnesota's Driftless Area (Fly Fisherman even ran an article on it). Winding through valleys bordered by limestone bluffs, the Root harbors a great population of wild browns approaching a few thousand a mile in the prime reaches. The river is born from springs in the headwaters after taking a trip through the subterranean passages of Mystery Cave, emerging as a cold, clear stream enhanced by the nutrients from the cave. We pulled in the campground late Friday night and set up camp in the dark. I had heard and read about the Root and it's prolific trico hatches before, but we've never fished it, so I was pumped when we decided to head down for the weekend. I was so excited to get on the water I hardly got any sleep!
Mist blanketed the river when we arrived down the steep bluff trail early the first morning. The river was amazing. The sound of rushing water and the crisp morning air produced the tranquility and peacefulness only a trout stream at daybreak can create. I quickly tied on a small Trout Snatcher under a dry, setting up a similar rig for Noah. Despite the crazy heat we got in the past few days, the stream was icy cold when we hopped in at 6:30 in the morning. I started the morning by hooking into a feisty little brown out of a riffle, but he popped off after a few jumps. Noah picked off a few chubs in a side pool before we moved upstream.
I had hoped to see a few tricos, but they never showed themselves in the riffles and pools we were fishing. A few fish rose once in a while, and the odd trico would float down the river occasionally, but the hatch never materialized. The stretch of river we fished was gorgeous. The turquoise-blue water wound through a mature forested valley with mostly gentle, riffled stretches, but occasionally rubbed up against a bluff and formed a deep, blue hole you couldn't see the bottom of. I waded up below a good riffle and started nymphing the skinny water. I caught my first trout of the morning along a root wad in the riffle, a pretty wild brown of about ten inches that ate the Trout Snatcher. I landed one more trout on the nymph and another on the big orange Stimmy. Braden found a sweet corner pool in a meadow section and had good success on the nymph. He pulled out half a dozen browns to twelve inches on the Trout Snatcher. A few came up and smashed his Bomber before we waded back to camp.
Later in the afternoon I hiked up a small feeder stream. This little spring-fed creek was glorious, ice cold and super clear with a handful of deep, blue pools stacked with wild browns. Lined with burnweed and brush under the canopy of old trees, casting was difficult but a well-positioned cast seldom went without at least a strike. The trout were ultra spooky, so a stealthy approach and a reasonable, unobtrusive fly were a necessity. Just the kind of trout fishing I love.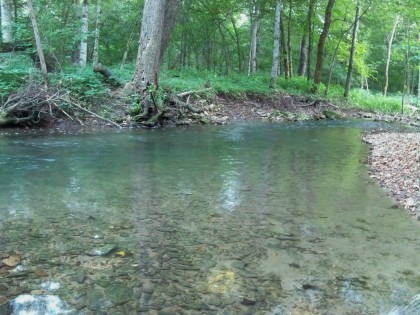 I carefully began working the little riffles and runs, softly landing my trio of flies in likely spots, and sometimes in the trees :). My first wild brown was only about eight inches, but still a respectable small stream fish displaying some awesome colors. I found one particularly good pool where a riffle flowed into the opposite bank, creating a deep blue hole riddled with a few logs and lots of trout. I crept into position behind some tall weeds and enticed three browns on a #20 sunk trico spinner.
My rig consisted of a big #8 orange Stimulator followed by a #14 Mercer's Micro May and a #20 sunk trico spinner. The sunk trico proved to be deadly, as the fish are accustomed to seeing these bugs get washed down the river all summer, even in the middle of the day. I ended the afternoon with around half a dozen wild browns. None were big, averaging nine or ten inches, but they made up for their size with some amazing red spots and feisty attitudes.
Today was a great day of trout fishing, and I really enjoyed it since I've been looking forward to a solid day of small stream fishing for a long time. I tied up a few sunk trico spinners by lantern light while sitting next to the fire before crawling into the tent. Tomorrow we'll hopefully get into a trico hatch and some more wild browns on dries!