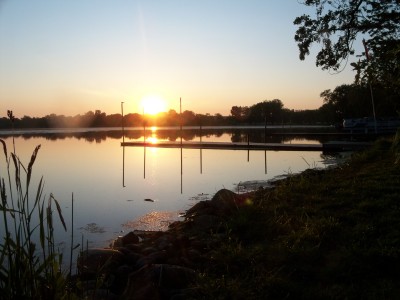 I've never had much luck fishing in the river above the cabin. Its usually too shallow, too weed choked, too warm, too something. Dad once caught a nice bass out of a sunken tree on a big bass bait, but that was it for all the years we've been going up there. Then again, I've never really explored it. Until today.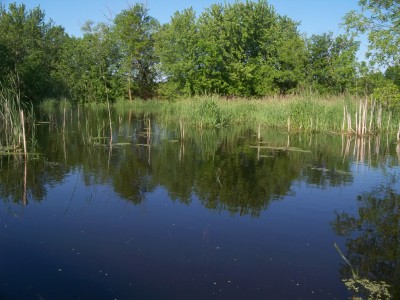 The early morning had gone by rather uneventfully. I managed a few small bass at the mouth of the river, but even they weren't really biting. On a whim, I decided to take a paddle up the river to check things out. The high water had flooded some grass and cattails, creating a big pocket of water that was previously unwelcoming to fish. Then I saw him. A three pounder lazily swam away at the flash of my paddle. That was the one I wanted.
Grandpa's old Wenonah glided through the cattails. This was perfect. Submerged cattails in two feet of water with plenty of cover. Small bluegills and minnows darted around in the weeds, giving the bass plenty to munch on. I wedged the canoe in a clump of weeds and tied on a big yellow popper. It only took two casts. Two bloops and a pause. No explosion of water, just a subtle slurp, more like a cruising trout than a bass. The fight only lasted a few seconds before he broke me off. He demolished my leader, leaving me with only a sad looking stub of 30 pound mono and a sinking heart.
I recovered and paddled over to a new spot. The lake was almost perfectly calm. I dropped the anchor on the outside of the cattails. Another big yellow popper went sailing into the cover. This time it got nailed. I set the hook and held on for dear life. This was hand to hand combat. I was way back in the thick of it, and if I let him go he would just get hopelessly wrapped in the weeds, get that split second of slack, and spit the barbless hook right back in my face. I had no choice but to hang on and hope my 0X tippet would hold as he thrashed wildly. Luckily, it did. It felt like forever, but honestly the fight didn't last more than two minutes. I wrassled him into the boat and got this self portrait by balancing the camera on a canoe paddle.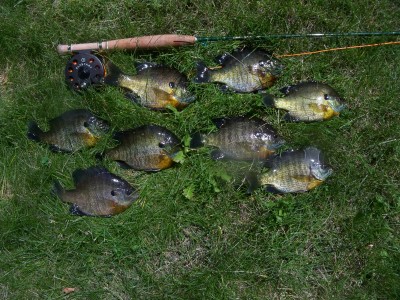 Later in the morning Noah and I paddled out to the same spot and did a little bluegill fishing for dinner. The bluegills were thick in there. A fly didn't survive long. Noah caught eight fat keepers on his glass rod and twice as many smaller ones in an hour. Fried in a little lot of butter, they sure tasted good. I also got a chance to test out some jigs on a spin rod. I felt really guilty, but it was actually kinda fun. I cranked in a few nice perch and Noah caught a big crappie. No more bass tonight, but we hit  the bluegills hard. Its a great way to relax after throwing big flies on a six weight all day.