Only a foot of ice in mid January in the middle of Minnesota is not a common occurrence at all. Usually we have at least twenty inches and are driving out to our fishing spot. The fish didn't care….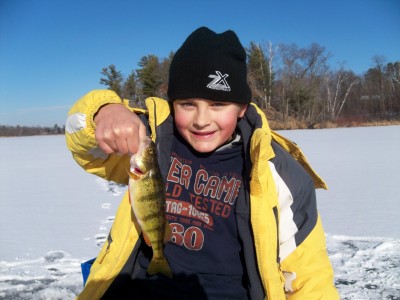 The fishing was great on day one. A warm front kept the fish active and hungry. The perch were hitting hard for about an hour after we got set up. All of us caught lots of fish. Jigging with minnow heads was really productive. Noah landed a monster 12″ perch, and Dad caught a small walleye. He also had a big northern right up to the hole, but it sliced through his 4 pound test with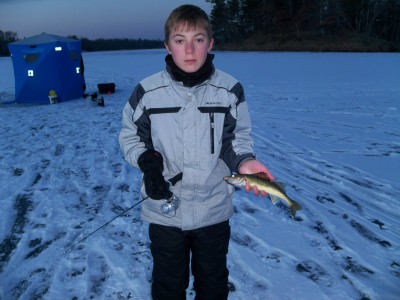 ease. Our tipup sprang twice, but came up empty. After that the fishing slowed down quite a bit. Managed a few small perch for the next hour or two, but that was about it. Mom came out, and the fishing heated up again. She caught her first couple of fish through the ice, and dad and I hammered the perch. I tested a few ice flies, which worked pretty well with and without a waxie. Near sunset the walleye started to bite a little. I caught my first three, a twelve incher and two baby walleye. Dad and I caught at least thirty fish today, and the other two a little less only because they went in early.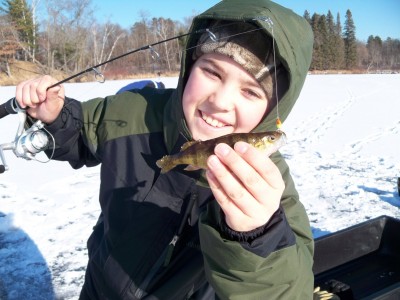 A cold front slowed down the fishing for day two. The fish were sluggish and not  very activeat all. Noah pulled in a small walleye, and each of us caught a handful of perch. The highlight of the day was a big pike trying to eat our fish camera, which looks like a baby bluegill. He swam by a few times, and then swam right up to it. He was so close his nose was almost touching the camera. I jiggled it a little and BANG, he hammered it! He was pretty mad that it wouldn't swim away from him.
It was a great weekend on the ice. Hopefully we will be able to get out again soon. Also, check back soon because we will be having a giveaway in the next week or so.
Comment and Enjoy!
Conner