I don't think there's a more highly anticipated day in our fishing season than the bass Opener, though this year it nearly didn't happen. The plan was to hit the North Shore in hopes of catching the early stages of the steelhead run, but, like any event in nature, it's a fickle phenomena that depends on a dizzying number of variables that even the best of anglers still don't quite understand. The fish hadn't yet entered the rivers, so we ended up calling off the trip with no small amount of anguish. It was a bittersweet decision, but it meant that we got to hit the lake for bass Opener, which isn't exactly a horrible consequence if you ask me.
I learned long ago to not form any serious expectations around fishing trips. Having a well-formed plan and high expectations (not to be confused with optimism, which is an entirely different and necessary animal) is as good a recipe for disappointment as I know, and the only way around it is to expect the unexpected, or just not care what happens, which in the the end is nearly the same thing anyways. Happiness is relative, and in some form or another, most people have the ability to at least partly enjoy themselves on a fishing trip.
Last spring was the best bass fishing we've ever experienced, and I honestly didn't expect this year's Opener to come anywhere close, though I was still quite optimistic. Bass Opener can be a lot like the first day of duck season – you fish it because it's "Opening Day," and not much else. Sometimes you might strike it lucky and a cold front will push some ducks down or the bass will still be prespawn and hungry, but most of the the time the action is only fair, although something usually happens.
There was still plenty of time left to chase some panfish when we rolled in to the cabin on Friday night. The crappies, still fat with eggs and still quite hungry before their spawning rituals began, were holding at the mouth of the river and feeding on tiny minnows. I coaxed a few to grab a small woolly bugger before switching to a #12 Pink Punch. That was a bit more to their liking, and I landed about a dozen nice fish in the nine inch range before calling it a night. I think the veil created by the ice dub did a nice job imitating the transparency of the little minnows the crappies were eating, though crappies just seem to have a hard time resisting anything pink.
I strung up a few rods – both fly rods armed with the trusty Meat Whistle and a Murdich Minnow and spin rods rigged with a crankbait and llama fur jig – in the dim light of the lamp with a good dose of excitement for the morning. Insomnia is a very real concern on the nights before big fishing trips, but fortunately I dozed off in time to get a solid five hours of sleep before my 5:00 alarm hit.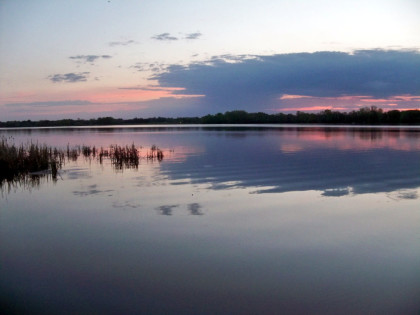 The sun hadn't yet reached the tips of the giant old oak trees on the opposite shore when I started casting my Meat Whistle. There was a touch of crimson in the sky, and every so often the eerie cry of a loon would echo over the lake. The only trouble was that the fish weren't biting, though it was a gorgeous, picturesque scene, and it almost seemed greedy to expect to catch a fish in addition to the grace I'd already been given. I probed the mouth of the murky river for a few minutes before I tail-hooked a big carp (unintentionally, of course). I first thought I'd hooked a big bass, but after a minute or two of surging runs and hard bulldogging on the bottom it was evident that I'd gotten myself into a much tougher fight. He put a good bend in the six weight, and the hook popped free just after I realized he was pinned in the tail.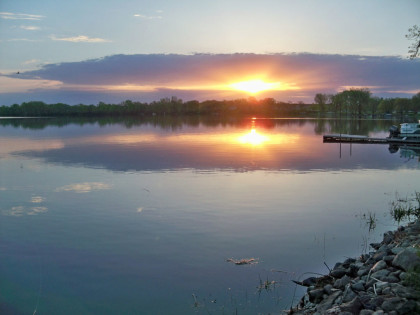 Prime predawn fishing time doesn't last long, and the sun was just starting to peek over the trees, so I grabbed the spincasting rod rigged with the same crankbait that got my first largemouth on last year's Opener (tradition, I guess). I'm no "fly or die" purist when it comes to bass fishing (I actually really enjoy gear fishing), and I guess I just like to catch fish, making a gear rod a fun and beautiful tool for efficiently covering water and finding the bass. But, like most anglers I know, I'll almost always take them on a fly whenever I can get them.
I figured the crank would perform nicely in the murky water, and I was right. I stuck a feisty largemouth around one pound for the first bass of the season – not a monster, but a good start.
I got one more bass before taking a hint from the bold, aggressive action of the crankbait and switching to a bigger articulated streamer that created a bit more commotion than the Meat Whistle. The bolder presentation and meatier profile turned out to be key in the dirty water, and I soon landed my first fly-rod bucketmouth of the season.
I stopped for a coffee break and Grandpa came out and got his first largemouth of the year on the crankbait. Noah and I fished for a few more hours and picked up a small bass here and there, but the morning bite never really materialized. I'm not sure if it was the weather or unstable water conditions, but something just wasn't quite right.
Braden was sidelined for most of the day with a baseball injury and a cast that couldn't get wet (he managed to fracture his wrist in the outfield and ended up getting it cast – hardly a good combination for a solid day of bass fishing). It was nearly a very tragic misfortune, but after much searching he found a giant green rubber glove that protected his arm from the water. And it's a good thing he did, because within his first few (fly) casts of the evening he hooked a monster largemouth…
It was a gorgeous fish, real fat and nearly over 20″, and it turned out to be Braden's personal best largemouth on a fly rod. Not a bad start to his bass season (quite awesome, actually), though it makes you wonder how he caught it on his third cast when you've dutifully put in your time and tossed flies for hours on end. Fishing has an odd way of keeping score.
The rest of the evening slipped by quite uneventfully, though Grandpa hit a good crankbait bite and put half a dozen fish in the net in very short order. Noah and I got a few more small bass, but nothing worth mentioning. I felt a hint of disappointment as the sun slipped behind the trees and another bass Opener came to a close.
I spent quite a while thinking about the Opener and wondering what was different. Yes, the fishing wasn't nearly as good as last year's Opener, but there was no real reason to be disappointed. The fly rods produced some fish, the weather was beautiful, and Braden landed a spectacular fish (if you don't get excited for a bass like that one you clearly don't have any business fishing) that'll likely be one of the best of the year. We caught some great fish and had a good time on the water, and for that I'm extremely grateful. But something was still missing, though after a while I realized it wasn't the fishing at all.
I guess I just haven't mastered the fine art of managing expectations.