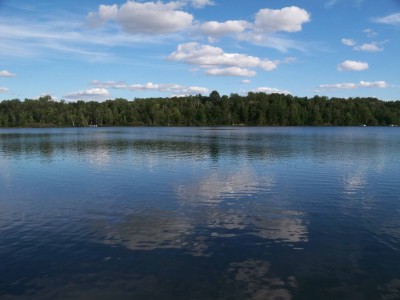 Bronzebacks have become one of our favorite fish on a fly (at least mine and Braden's), passed only by trout. Trips have been focused on these scrappy fighters to the neglect of other species. This was what happened this weekend up at the lake with Grandpa. Started off by day tripping on Thursday over to north western Wisconsin to check out some lakes. The water is crystal clear on these pristine northern lakes. We only fished for about half an hour, but managed to pull in a bunch of bluegills. The most excitement came when a huge bass came charging out from under the dock and tried to eat a little bluegill Braden had on. We got him to look at a few flies, but he wouldn't eat under the bright sun.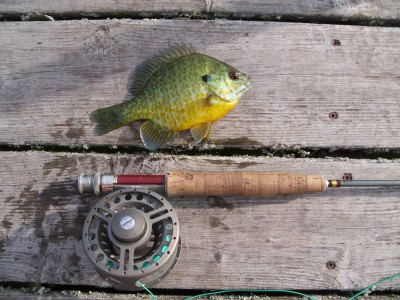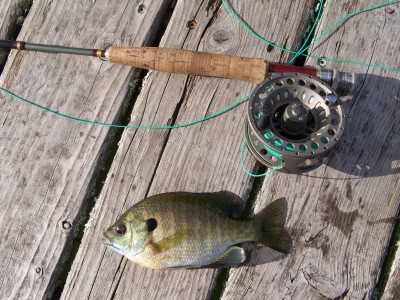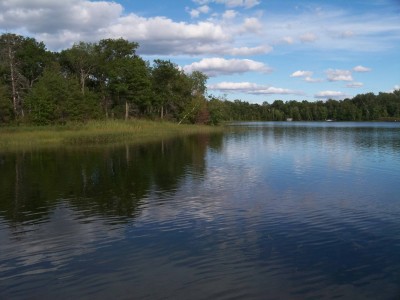 On Friday, Braden and I fished the same section of the North Fork Crow River that we fished a couple of weeks ago. This spot is up in the headwaters a few miles before it empties into a couple of lakes, and is only ten to fifteen feet wide. The creek was starting to get pretty skinny and really needed some rain. The fish were stacked up in the deep holes, and they were hungry. I messed around with a few small nymphs for a while before I switched to a #6 black  Murray's Strymph. A beast of a rock bass came up and  hammered it next to a log only a few casts in.
The smallies weren't too hard to fool. Almost anything that looked alive got eaten by an aggressive bronzeback as long as it was around the right size. Just stick it in the hole, let it sink, a few twitches, and bang, a fish would usually hit it. A few casts after I released the rock bass, I tied into a decent smallmouth. As usual, he tried his best to break my 4X tippet and get me wrapped up in the logs. Finally, he got tired (if smallmouth can get tired) and I landed him. A great fish for this little creek, around twelve inches.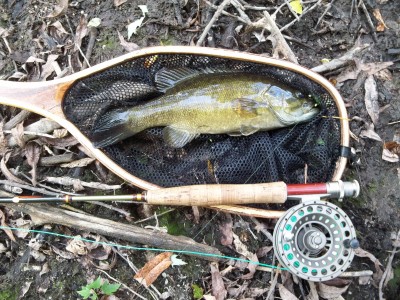 I headed upstream and caught up with Braden, who was having similar luck. His little #12 "snack size" Braden's Crayfish was getting attacked by the smallies, and he landed another good smallie around the same size along with a few smaller ones. By a lot of people's standards, this isn't a big smallmouth, but for the size of this little creek, its a good fish.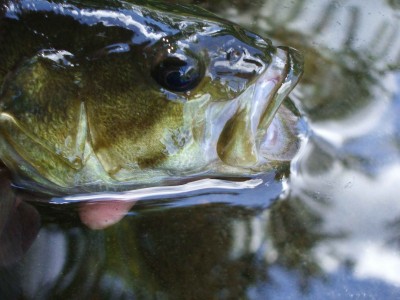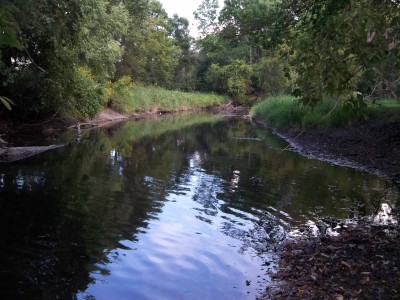 We hiked downstream into some more new water. I quickly hooked another twelve incher, but after a few jumps the fly popped out. Braden's crayfish got sawed off by a little pike, and each of us caught a few more fish before the end of the afternoon.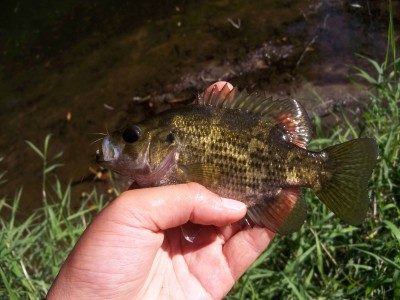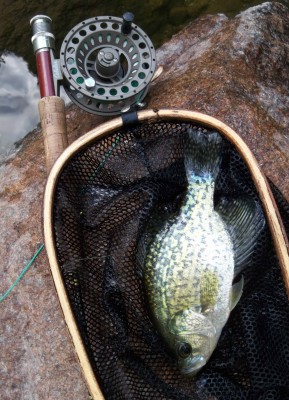 Later that night we checked out another spot on the NFC a few miles below the lakes. The river was wider here, and had a lot of rocks and riffles and some deeper holding water. The water was crystal clear and it looked great for smallies. I tied on a black conehead bugger and was surprised by a nice crappie. The river was full of them. We found a honey hole next to a log jam and pulled them out on almost every cast, including some slabs. Noah rigged up his glass CGR 4 weight and caught a bunch on a new little fly he calls the "Pink Punch". It was awesome. Surprisingly, there weren't many smallmouth around at all. I only saw one little eight incher that gave a half hearted look at my fly. The river had a bunch of pike, too. My black bugger got chomped off, and I had a decent one on for maybe fifteen seconds.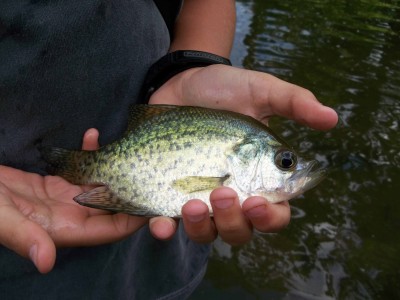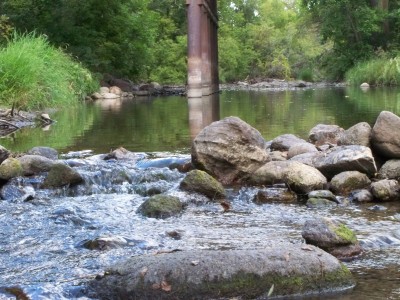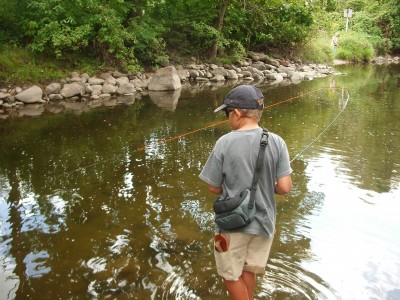 The next morning we went back to the same spot. I started by catching a little hammer-handle pike on a chartreuse Meat Whistle. He flopped out of my hands before I could get a picture. The crappie action wasn't as fast this morning, but we still managed to catch quite a few. The pink punch and snack size craw worked well again. I even hooked a little smallie, but he spit the hook pretty quickly. Grandpa tried fishing Rapala's hoping for some pike. He had one on right up to the net, but it popped off. That's fishing for you. Noah caught quite the variety of fish, including bluegills, crappie, a tiny smallmouth, and two suckers on the fly that put a big bend in his 4 weight, even though they were ten inchers.
Conner