This weekend Dad and I camped in SE Minnesota. I recently finished an online hunter safety course, so we were down there for the field day. I just happened to plan it close to a bunch of trout streams, so we obviously fished. We arrived Friday night and set up camp. The next morning it was off to the field day. After that Dad and I got a bite to eat at a small pizza place in town, and then we went to one of our favorite streams.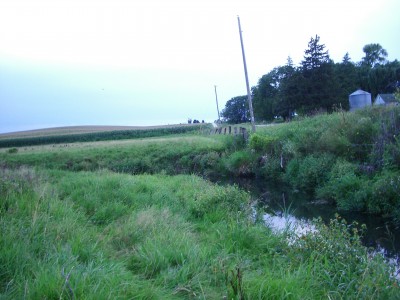 Dad fished a pink squirrel, while I threw on a #16 ant. Three casts later I landed this beautiful brown.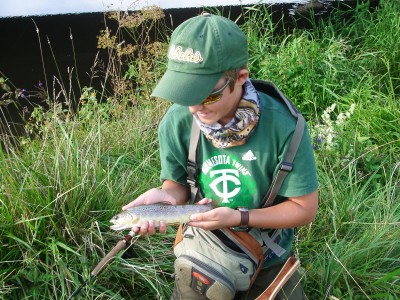 I kept fishing, but found that my ant wouldn't float. I should have put another ant on, but, not thinking, I put on a deer hair hopper. Dad was fishing down stream in a hole that has produced for me before.
 Dad stayed in one spot and pulled out five nice brookies, while I walked around and didn't catch any more. I also met a very nice fly fisher who gave me some flies. (Thanks Mr. Schulz) Definitely not a bad trip.
The next morning Dad and I hung out at camp for a while, but then got caught in the rain. So we quickly got packed up and hit the road. On the way home, we fished a new stream, and it was a good choice.
I tied on a bead-headed olive woolly bugger that I got from Mr. Schulz. The brown trout were nibbling it, but no solid bites yet. Then I saw a flash and moments later I brought this vibrant brown to hand.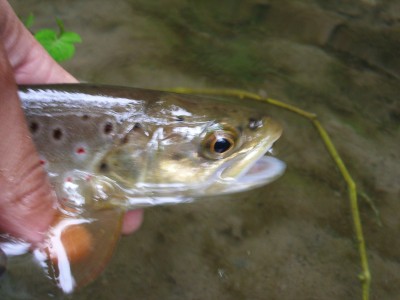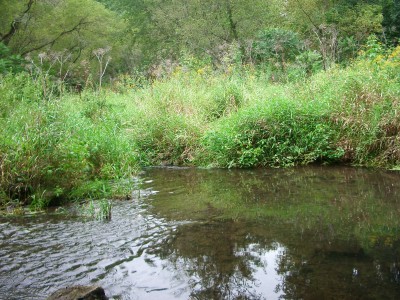 Dad opted not to fish, since the stream wasn't very big. I fished my way upstream and lost quite a few flies on fish. Then I switched to a Chernobyl Ant, and got quite a few takes but missed the hook set. Finally I hooked one, but just as I was about to net it he threw the hook. I kept fishing and had a few more bites, but nothing stuck. It was a great weekend of camping and fly fishing.
Next we're headed up to the lake for some warmwater fly fishing. Smallmouth on the fly should be lots of fun!
Tight Lines,
Braden