Big panfish eat few flies consistently, while smaller fish swallow everything that moves. In order to catch big panfish you'll need a box that can adapt to water conditions and fish location. Here are the flies that help me catch more big fish in a variety of conditions:
The scruffy collar pushes water and the cone head gets it down, making this fly a good option for murky water or aggressive fish. The pink color makes it irresistible to crappies, and the ice dub gives it a translucent minnow effect.
Thread: Pink or Black 8/o UNI Hook: # 12-8 Bead: x-sm Silver Conehead  Tail: Pink Marabou or pseudo marabou Body: Pink Ice Dub in a dubbing loop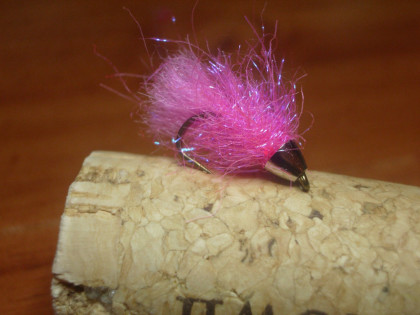 The Noah's Minnow is a great fly for picky panfish. The marabou tail twitches in the water driving the most skittish fish to bite. The natural colors and bead chain eyes make it a natural option to throw. I created this one in 2010 and have put it through many renovations, but this is the "finished" product (for now).
Thread: Black 8/o Hook: # 8 to #12 Eyes: Black or silver bead chain Tail: Marabou, crystal flash (opt.) Body: Wrapped marabou, same plume as tail Extra Weight: 3-4 wraps of .025 round lead free wire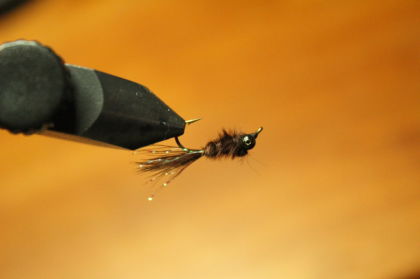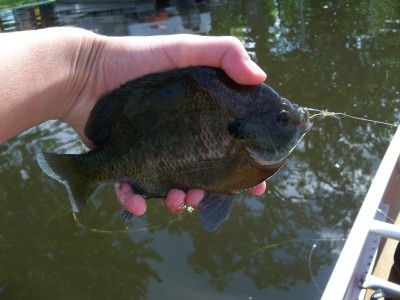 The minnow-like characteristics of flashy estaz followed by the flowing marabou make the flash bugger a killer fly for panfish. It is really easy to tie and extremely productive in murky water or for aggressive fish. My favorite color combos would be pink\blue, pink\chartreuse, gray\blue, chartreuse, olive, and brown (tail\body).
Hook: #8-12 Thread: 6/0 UNI Bead: 1/8″ copper Tail: Marabou (any color) Body: Eztaz (any color)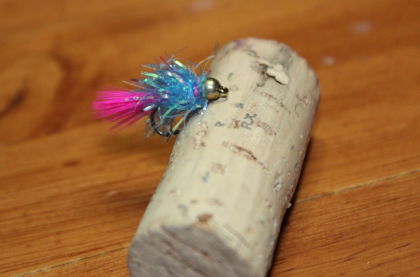 The DNA Mini Clouser is a great for big bluegills and crappies. The profile and shine of the DNA Frosty Fish Fiber looks almost exactly like a small minnow. They've got cool transparency that makes them look really nice in the water.
Thread: Black 6/o UNI Hook: #8-12 wet fly Eyes: Black or silver bead chain Over wing: Chartreuse DNA Frosty Fish Fiber, tied on bottom of shank Under wing: White DNA Frosty Fish Fiber, tied on top of shank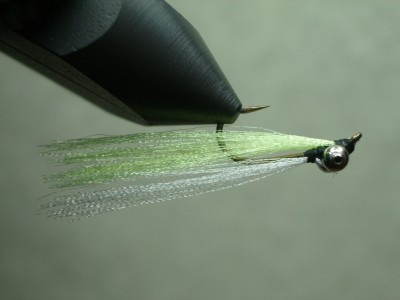 This fly is bullet proof, doesn't sink, and pushes a big wake – a great combination for big bluegills. Both fish and fisherman can track this fly in low light conditions. It will produce any time in shallow water, but the hottest bite is sunset.
Hook: # 12 Thread: 6/o UNI Tail: Any color of marabou Body: Palmered hackle Back: Any color of thin foam Legs: Centipede legs Marker: black permanent      
When the fish are less aggressive, you'll need a subtle fly. The soft hackle will entice the picky fish, making it a must-have for a versatile panfish box. Also add a bead to get it down to deeper fish. This fly has saved several of my trips from being skunked.
  Hook: #14 wet Thread: Black 8/0 UNI Bead: 3/32 gold copper bead Tail: Lemon wood duck flank Body: Yellow GSP or floss Rib: Copper wire Shellback: Pheasant tail fibers, folded over body and rib Thorax: Peacock herl Hackle: Rust brown/white hen hackle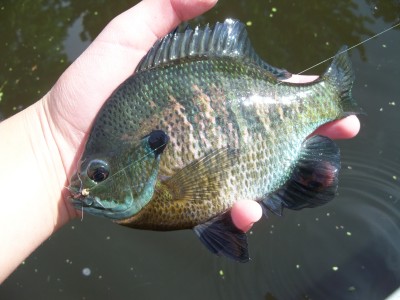 Tight Lines, Noah Need some panfish bugs? Check out our
shop
!