May 25, 2014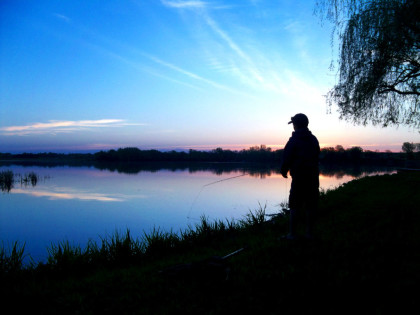 I was on the water at five again this morning. Noah decided the sunrise and possibility of a good predawn bite was too much to miss, so he joined me on the water, half awake yet eager to hit the lake. It was still dark and a bit chilly when we starting tossing flies at the river mouth, me armed with a big articulated concoction and Noah with a simple conehead rabbit strip leech in purple. They were about as different as streamers can get, but they both had their charms and did a decent job of catching fish.
Noah hadn't been fishing for more than three casts when he came tight to a solid fish. I scrambled to grab my camera and the net in the predawn darkness as Noah battled the largemouth. She jumped, and for that moment that seems like eternity when you have a big fish on, both of us held our breaths as we realized just how big she was. Successfully fighting larger fish on a fly rod is by no means an accidental feat (both of us have learned plenty of tricks and have suffered plenty of heartbreaks over the years), but Noah played her perfectly and soon slid the old bass into the net – another fantastic largemouth and a personal best on the fly rod!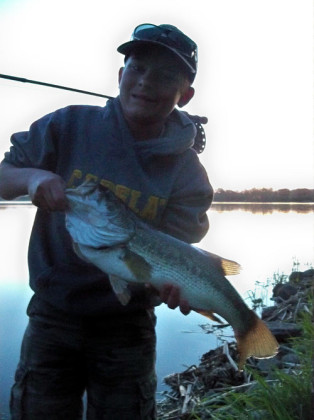 We were pumped. I snapped a few quick pics and popped a couple high-fives before she shot off into the dark waters. She taped around 19″, but she looked far bigger. Looking back, I wish I'd taken the time to grab the scale and get a quick weight.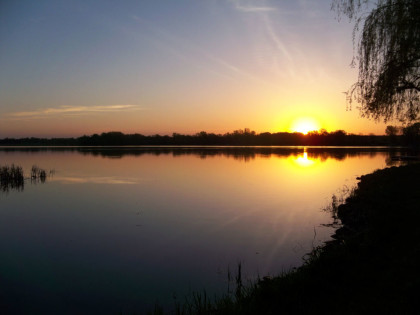 I'm not exactly sure why, but after that first good largemouth I couldn't get another bite. The water is quite stained this year compared to last year's Opener, and I suspect the warmer, brighter weather might have something to do with it as well, but there's no clear answer. I tried all sorts of flies and baits and retrieves on the fly and spin rods without any action. Nothing. The lake was dead. I even hopped in the old row boat and hit the docks, but the bass just weren't having it. It was a gorgeous morning on the water, though, and Noah's one big largemouth was definitely worth the lost sleep.
A front moved in later in the afternoon, followed by some better fishing. I got a decent 14 incher on a fly I tied to imitate the "stupid tube" that produced so well last year. A jig hook, conehead, double rabbit strip tail, some flash, a bit of estaz, and some llama fur in front turned out pretty nicely and did a good job replicating the erratic dragging action of the tube. The fish seemed to like it well enough, and that's all that really matters.
There was about an hour of daylight left when I hit the water again. By this time the lack of sleep from two early mornings on the water was starting to take its toll. I was in one of those stupors induced by too little sleep and too much caffeine, and I nearly didn't fish. But the calm lake looked too good to pass up, so I grabbed the fly rod rigged with the jig fly from earlier and hit the river mouth. I'm glad I did.
On the second cast I nailed a good fish. A bass. A real nice largemouth.
She peeled some line off at first, but honestly it wasn't that dramatic. A few of those flops that bucketmouths do when they're too fat to make it out of the water, a few hard tugs, and she was in the net.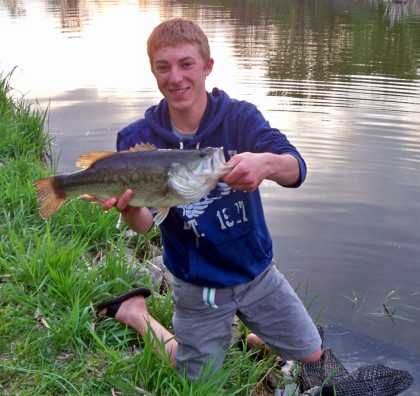 It was another great bass and my biggest on the fly, a fat female that stretched around 19 inches with a big, gaping jaw.
I pounded the river mouth for another half hour without another bite to show for it. I should've ended on a high note, but like most anglers, the hope of catching another fish was just too much to bear.
The next morning was rather uneventful. I set out in the rowboat hoping to catch a few bass on the fly. I poked one good largemouth that quickly came unbuttoned, which ended up being the only bass action I had all morning. The panfish were thick and ravenous, though, and I also happened upon a few carp with bellies the size of watermelons. They completely ignored my hybrid worm fly. It was the first time in a long while I found my knees shaking while fly fishing.