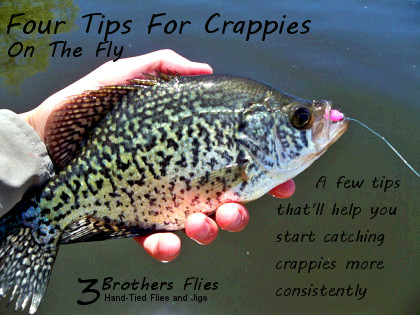 (Editor's note: Here's a post from Noah, the youngest member of the crew and resident panfish guru, on a few tips to help you catch more crappies on the fly.)
Thoughts on flies, location, presentation, and gear that'll help you start catching more crappies on the fly rod.
As lightning flashed in the distance I stood on a dock casting aggressively. "Just one more fish," I said frantically to myself. Despite Conner's warning I stayed on the dock and kept fishing. Stripping in my line, I felt a tug and set the hook. After a short but spirited fight I landed the fish – a crappie, my very first on the fly.
Crappies, a feisty panfish with a big mouth and a bigger appetite, eat flies voraciously and put a good bend in a light fly rod, making them a blast to target with fly gear. To catch fish consistently you'll need a stocked box, a calculated location, a well thought-out presentation, and the right gear. Here are a few general tips and thoughts that'll help you start catching crappies more consistently.
 #1. Your Box
When tying or choosing a fly for crappies, there are a few things you should consider: color, size, and sink rate. Bright colors are ideal for an aggressive bite, and natural colors are ideal for more timid fish. Size is another important factor. Sizes 14 through 6 are a good start for crappies, with bigger flies producing fewer but larger fish. Deeper water demands a bead or cone head, but an unweighted fly will suffice in water less than six feet. Also, match the weight of the fly to the water column were you will be fishing.
Crappie fishing presents the angler with varying depths and water conditions, making a box that can change with the conditions a necessity. Flashy flies that can push water and get down fast are good for deep, murky, or low light conditions. Lightly-weighted flies in natural colors with some flash are more productive in shallow or clear water. Poppers are the obvious choice for top water situations.
In lakes and rivers crappies forage on a wide variety of food. Although crappies will feed on bugs, they strongly prefer minnows, making them an easy first choice for anglers. Bugs can produce just as well, particularly near weedlines. Always look in the water and match fly profiles to possible food sources.
#2. Location
Crappie location varies widely throughout the year, with fish frequenting habitats ranging from shallow, mud bays to offshore basins in response to seasonal conditions. When choosing a spot always keep in mind the four "C's" for crappies: cover (brush, weeds, and rocks often attract fish),  contour (drop offs, depth, humps, holes, etc.), chow (the fish are where the food is), and comfort (comfortable water temp and current speed, with slower and slack water producing more fish).
Though crappies usually relate to log jams, rock piles,weed lines, and submerged brush, they'll often abandon cover and suspend in open water, especially in the late summer months. One of the best opportunities to catch crappie on a fly comes in the spring when crappies move to the muddy shallows to spawn and feed. Crappies will often roam weed lines or drop offs in search for food. Bait skipping the surface is a tell tale sign of where they might be. Always analyze the situation and conditions before you randomly pick a spot.
#3. Presentation 
To catch fish consistently not only do you need a good fly but you also need to get down to fish and perform a convincing retrieve. Try to mimic one of the crappie's three primary prey types: a bug, a bait fish, or top water. Mach the retrieve to what they're feeding on and experiment to find what works, as what produces today won't always produce tomorrow. The cast location is another important factor. Cast toward cover, drop-offs, weed lines, or bait skipping the surface. If you see a possible food source in the water match the size, color and swim pattern. Think about where you're putting the cast as it will determine where your fly will swim.
#4. The Gear
The best setup for crappies depends on the presentation it will accomplish. A two to six weight rod and reel are excellent tools for the job (a glass rod is always a blast). The length of the rod depends on how far you're casting, with longer rods preforming better for longer distances, but a seven and a half to nine footer are adequate options. Sink tips are ideal for deep water when you want a rapid sink rate, but floating lines will suffice the rest of the time. Where you are fishing will determine leader length. A shorter length is better in brush and situations requiring tight casting, but a longer leader is better in shallow water where fly line will spook fish. My favorite tippet size is 6-8lb test. Other necessities include: pliers, scissors, extra tippet, split shot, and a well-stocked fly box.
Crappie are definitely one of my favorite to catch. No matter where you target them, chasing crappies with a fly rod is a downright fun way to spend a day. Next time your on the water, keep these tips in mind to catch a few more crappies on the long rod. And remember to just have fun!
Tight Lines,
Noah