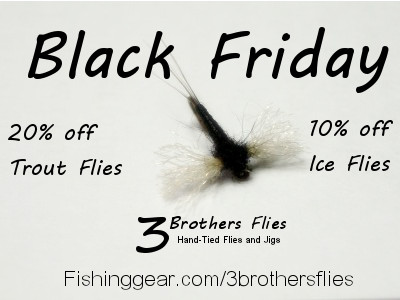 Check out our Black Friday sale on Fishinggear.com and grab a few hand-tied flies and bugs.
From the shop…
3 Brothers Flies offers quality hand-tied flies, ice flies, and jigs that catch fish, not just fishermen.  Many of the flies featured are signature patterns that we have designed to fish waters both local and abroad. Fly fishing is one of our huge passions, and we know the awesome moment and excitement of watching a trout delicately rise and sip our dry fly. We love casting hair jigs for bass way back in the lily pads, or chasing slab crappies on a Minnesota lake. In these moments, we need a fly or jig that's effectiveness is equal to our passion for fishing. Tied right here in Minnesota, all our flies are tied to be very durable and withstand lots of fish. If you don't see a fly you need, or want a custom fly or jig, just hit the contact button and we will work with you to figure out the perfect fly or jig for your situation.
Ice Flies Tight lining has taken the panfish ice fishing scene by storm in the past few years, and for good reason. This highly productive technique utilizes ultra-quick sinking tungsten jigs in combination with realistic, imitative ice flies on the same line (commonly known as a "Michigan rig"). You just can't beat the tantilizing movement and realism of an ice fly for slab bluegills or crappies through the ice. These flies often turn negative fish that reject the baited jig into biters, a situation common with finicky cold front panfish.  If your local state regulations do not allow two hooks on one line, a drop shot rig is equally effective. Anglers fishing with ice flies and the tight line technique will often out fish the guy using standard methods with just bait.
Grab a few hand-tied Slab Spikes on Fishing Gear.
Tight Lines and thanks for the support!
3 Brothers Flies