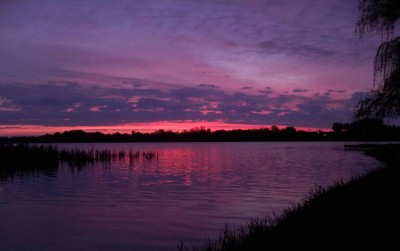 I was up at five again this morning. Unlike yesterday, the clouds had thinned a bit, so we actually had a sunrise – and it was awesome. Standing knee-deep in the shallows of a lake or stream at the break of dawn on a cool morning is one of my favorite times to be outdoors. The lake is usually dead calm, yet frantic with feeding fish. Trout are rising in the creeks, bass are jumping, and every fish in the lake seems to take advantage of the relative darkness to snatch an easy meal.
Unfortunately, along with the sun came slower fishing. Despite pounding the river mouth and surrounding shoreline, I managed only two fish on the fly the whole morning, a decent largemouth that ran about fourteen inches and a smaller "pounder".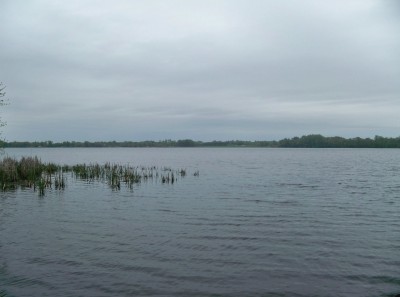 Later in the morning, we hopped in the old van and scouted a new spot on a lower stretch of a favorite smallmouth creek. All the recent rain we've had put the stream running high and muddy, so it was a little tougher to figure out where the fish were holding. We tossed a variety of flies, but came up empty. The river was quite a bit wider here and very close to the confluence with a large lake, so there were undoubtedly some fish hanging around, maybe some bigger bronzebacks and pike. We backtracked and hit a favorite spot farther upstream. The creek here was unrecognizable from the last time we were here when low summer flows reduced it to practically a trickle. I only fished for a few minutes before heading back.
Once we returned to the lake, we set up at the mouth of the river for the evening bite. I nailed a nice 3 pound, six ounce largemouth on the Meat Whistle, my largest fly-caught bass of the trip. Fishing was a bit slower tonight, but all of us got some fish, mostly bass around the twelve inch mark. I also caught another walleye on the fly rod, a baby eight incher that smoked my Meat Whistle.
Overall, it was another great day of fishing. Tomorrow we'll pull out the old row boat and hit some deeper water looking for some 'eyes.
Tight Lines,
Conner