The first couple days of our trip out to the Smokies in late October were shut out due to some rainy, cold conditions. The hurricane pushed a huge cold front through the mountains, dumping over three feet of snow in the higher elevations! Newfound Gap Road, which cuts through the mountains, was closed for most of the first two days. All that was left to do fishing-wise was to sit down and crank out a bunch of flies. That's exactly what we did.
First on the menu were some tungsten hare and coppers tied with lemon wood duck flank from a wood duck I shot in September. I always keep a good stock of these in my box, as they work well pretty much anywhere and are quick and easy to tie. The tungsten version worked great to get down to the fish in the cold.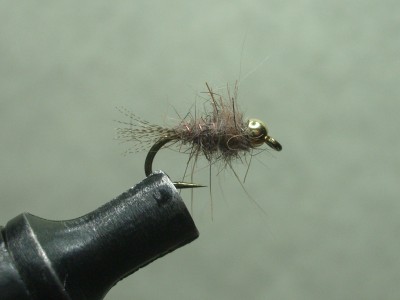 Next, I whipped up a few prince nymph variations, kind of like a psycho prince with some ice dub on the thorax.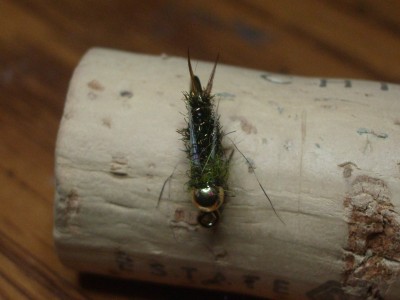 Hook: #14 Mustad Signature Series Standard Nymph hook Bead: 3/32 gold copper Thread: 8/0 black UNI Tail: Brown goose biots Abdomen: Peacock herl Rib: Copper wire Thorax: 50/50 mix of olive hare's ear and black ice dub Wing: White Goose Biots
Tellico nymphs, along with other yellow flies, seem to be quite popular out there. The Tellico is an old fly that was developed somewhere around the Smokies. Here is my version of the classic, again with some lemon wood duck. I bet a pink version would work well in the Driftless….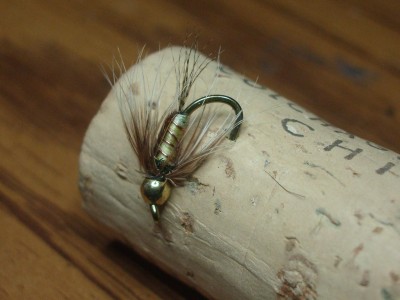 Hook: #14 Mustad Signature Series Standard Nymph hook Bead: 3/32 gold copper bead Thread: 8/0 black UNI Tail: Lemon wood duck flank Abdomen: Yellow yarn (I used yellow GSP on this one) Rib: Copper wire Shellback: Pheasant tail fibers Thorax: Peacock herl Hackle: Grey hen
After fishing a bit and finding fish taking small blue winged olive nymphs, I started fishing a small brown nymph I call the Chocolate Greedo, a brown version of my Greedo BWO. I caught a beautiful 17″ wild rainbow on its first time out. We caught a lot of our trout that week on this fly.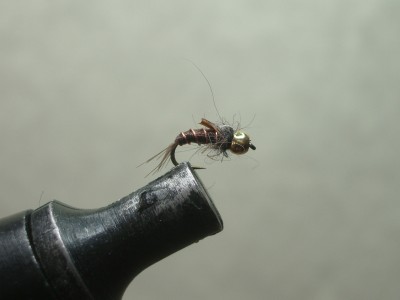 Hook: #20 dry fly hook Bead: Small (5/64) gold copper Thread: Black 8/0 UNI Tail: Brown duck flank Abdomen: Brown tying thread Rib: Fine copper wire Wing Bud: Brown goose biot, clipped to half the length of the abdomen Thorax: Mix of hare's ear and black superfine dubbing  
Also, check out the fly box, where we post fly patterns that we tie and fish, along with a few step-by-steps.
Tight Lines,
Conner