Here is a quick little scud pattern to add to your trout box. Scuds are an important food source for trout in nutrient-rich spring creeks and tailwaters year- round. This fly fishes equally well in rivers and lakes. Drop it off a beadhead in an indicator rig or strip it in around the weed beds.
The simple scud uses just a few materials and is very easy to tie. For me, the simple scud is more of a style of fly than an exact pattern. Don't be afraid to experiment and change it up. For this fly, I used a standard straight Mustad Signature Series Nymph hook (mostly because I don't have any scud hooks:)), which works just fine. My favorite dubbing blend is a mix of hare's ear, antron, and Ice Dub, but scud dub, Ice Dub, and antron are all good substitutions. The scruffier the better, so don't be afraid to aggressively pick out the body. The shellback is nothing fancy, just a strip cut from a clear plastic sandwich bag, but your favorite scud back material will work as well. Tie these guys down to a size 18 or 20.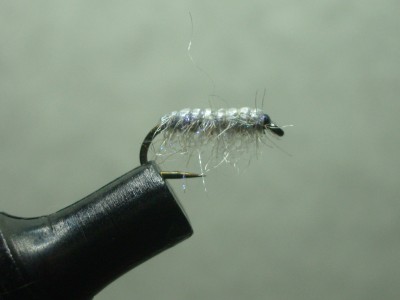 Hook: #12-20 Mustad Signature Series nymph hook. You could also use a standard curved scud hook. Thread: Black 8/0 UNI Body: Mix of equal parts gray ice dub, cream antron, and dark hare's ear dubbing (or your favorite scud dubbing), picked out. Shellback: Plastic sandwich bag strip Rib: 6X tippet
This is the same fly but with pink Hareline Scud Dub for the body. Change up the color for your local waters.
Tight Lines,
Conner