This week the crew is on vacation in the Smoky Mountains for a week of fly fishing, hiking, and hanging out. Fly fishing in the Smokies has been a dream of mine since I became a fly fisher. Maybe it's all the videos of trout eagerly crashing dry flies in small streams, or the pics of beautifully colored wild rainbows, but the small, rushing streams of the Smokies have always captivated me. Great Smoky Mountains National Park has hundreds of miles of cold mountain streams ranging from tiny high elevation brook trout streams to small rivers with larger browns. I was pumped that we were actually there.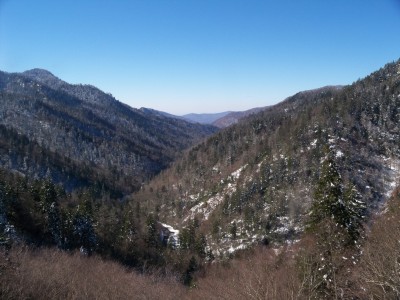 Weather has made things tough. For the first few days we were stuck inside as Sandy dumped over two feet of snow on the mountains. The road through the mountains has been closed most of the time since Sunday. While the rain poured down, we hit the Orvis shop in Sevierville and got the latest fishing conditions and the hot flies. The snow pretty much ends any hopes of fishing high elevation for brook trout, so we will hit the lower elevation creeks for wild browns and rainbows. Wednesday was the first day it wasn't rainy and freezing cold, so we got out for about an hour in the evening and fished almost until dark. Noah and I didn't catch any, but Braden nymphed up a great 9″ wild rainbow. The water out here is beautiful, mostly pocket water flowing swiftly over moss covered rocks and boulders. It's a trout fisher's dream. There is something like 900 miles of streams in the Smokies, each containing endless pockets and pools that hold trout.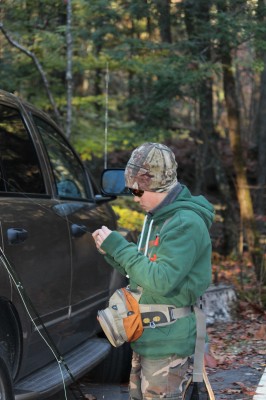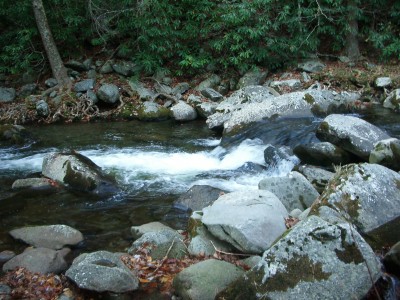 We stopped at the Smoky Mountain Angler in Gatlinburg for some fly tying stuff on Thursday. It's a great little shop. The guys were very helpful, and pointed us toward some great fishing spots. We sneaked in another couple hours of fishing before dark on Thursday. I spotted a few fish in a huge pool, so I crept into position and sent my tungsten hare and copper through the pool a few times. I hooked a small rainbow for a second, but my hare's ear was getting mostly refusals, so I tied on a #20 Chocolate Greedo nymph dropper (its like a Greedo BWO, but brown). A few drifts later, my indicator twitched, and I set the hook into a hard fighting rainbow. After a good five minute battle on 6x, I got my first Smokies trout into the net, a fat 17″ rainbow! From what I understand, the rainbows don't get very big in the park, so this was a great fish. This fish was in great shape, very strong and thick shouldered. I released him, and we called it a day.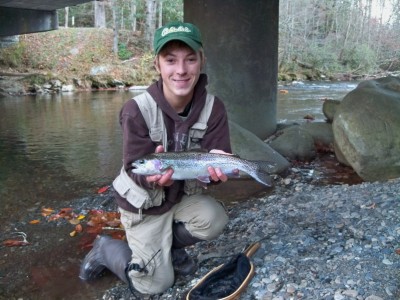 So far, the trip has been great. Even though they often don't correspond with good fishing in high elevation, snow covered peaks are a dramatic background for fly fishing. The cold water will make things a little tough, but the bite should pick up as it gets warmer towards the end of the week.
Tight Lines,
Conner