Each summer the lake at the cabin turns a nasty green due to algae blooms and looks more like pea soup than a lake. However, if you hunt a bit, you can find some clearer water. That's exactly what Braden and I did on Friday afternoon. The lake empties through a small dam into a little creek. I've always wondered if it was possible to put the canoe in and paddle down it, so today we did. The paddle across the lake was a little rough because of twenty mph wind gusts, but still manageable.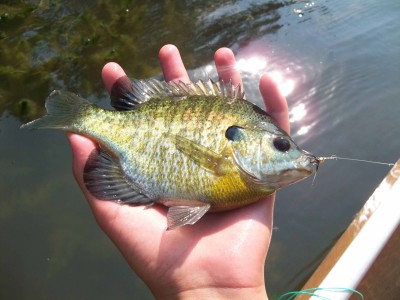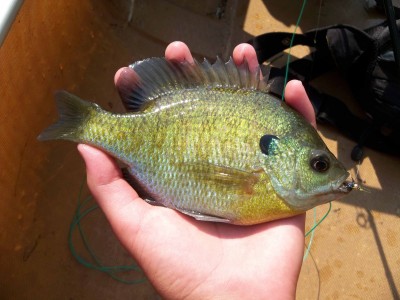 The creek was a welcoming sight. It still ran pretty murky right at the outflow, but a short ways downstream the water was a lot clearer. There weren't any boards regulating the water in the small dam, but the flow was still decent. The bluegills were thick back there. Braden and I indicator nymphed and caught a fish on almost every cast, not huge, but a good number of keeper sized gills mixed in. They fought well on a five weight in the current. We caught around forty each in a little over an hour.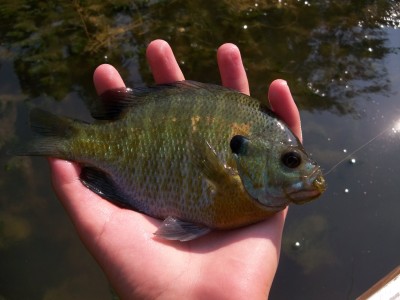 I love exploring new waters. The sense of discovery and satisfaction that comes with finding a new honey hole, especially in hard to reach places is awesome. Once we got into the creek , you'd never know that you were minutes away from shorelines lined with cabins. Braden and I tried paddling farther downstream, but fallen trees made it tough in the short amount of time we had. The creek flows into a large chain of lakes that eventually empty into the Mississippi around 30 miles downstream. Catfish, which were stocked in the chain, managed to migrate upstream into the lake, so there must be some decent holding water. Next time we'll do some more serious exploring, as you never know what's around the next corner.
Tight Lines,
Conner