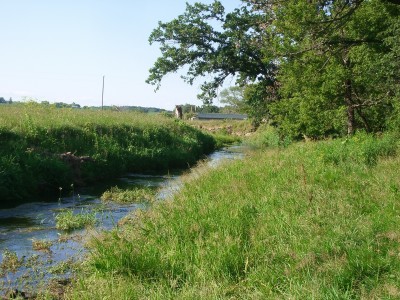 Today we drove down to a Winona County stream for a day of fishing. We started the morning by fishing way up in the headwaters on an artificials only, catch and release section. The stream here is a classic meadow spring creek, very cold and weedy. Not a lot of holes up there, but when you find a good one it is stacked with trout. Despite being small, this creek holds some ridiculously large browns.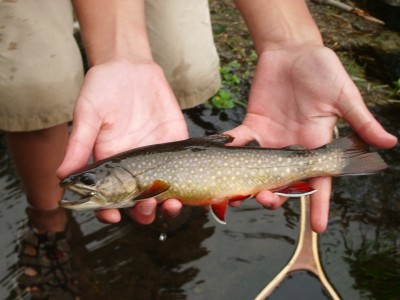 We got there around 10:30. Braden started the day by nailing four nice brookies and a brown, all on a #14 Czeched Out Hare's Ear. It is basically a tungsten hare's ear with a pink hot spot and some soft hackle (Hans Stephenson from Dakota Angler and Outfitter has a great video on this fly here). I hiked upstream and caught a gorgeous 8″ brookie and a brown out of a sweet hole on my brown micro tubing mayfly nymph (MTMN).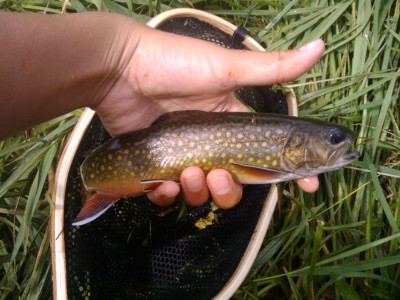 A dry dropper was the way to go this morning. I fished a #8 stimulator with a #14 micro tubing mayfly nymph dropper. Braden had a hopper dropper combo with a little pheasant tail and a Czeched Out Hare's Ear on the bottom to get everything down. Braden got hits when he twitched his flies, otherwise they would get ignored. A few trout slashed at our dries, but nothing commited.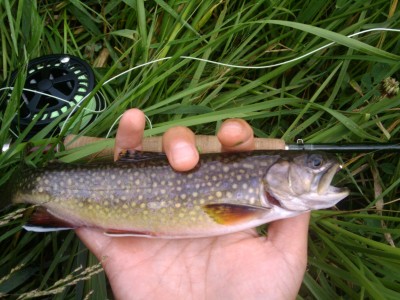 We stopped in a small town for a burger and then hit some different spots farther down on the river. It was really slow. Not even a bite. Even the bait fishers weren't catching anything. The time of day and the bright sunny skies probably had something to do with it. We fished three different spots with no luck before we finally returned to the headwaters we fished in the morning. I tied on a stimmy followed by a #14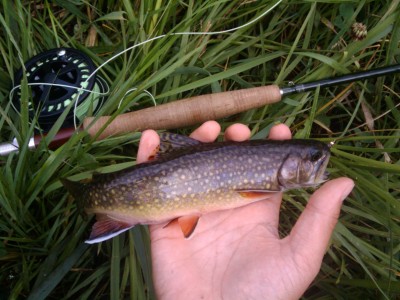 pink squirrel. I made a few drifts through an awesome bridge hole without a hit. I realized that I wasn't getting deep enough, so I tied on a tungsten pink squirrel 16″ off the first one. That got me to the bottom and into some fish, two browns and two more nice brookies. Dad sneaked a few minutes of fishing in and caught a nice brookie. Pink was definitely the prefered color today. If you don't have any pink squirrels in your box, TIE SOME UP. They're amazing.
Conner