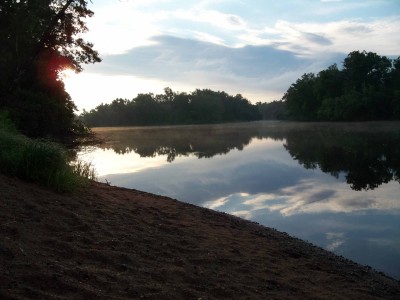 There is something special about fishing very early in the morning. The air is crisp and fresh, the sun is just coming over the trees, and the water is dead calm. Mist is still blanketed over the river, and somehow the sound of rushing water wakes you up. This is how the St. Croix River found us on Saturday morning. We camped over the weekend in St. Croix State Park in northeastern Minnesota with a big group of friends and managed to sneak a few hours of fishing in.
The St. Croix is known for its smallmouth, which none of us had ever caught on the fly. The river runs fairly clear here, only slightly stained by the tannin in the water. Around a hundred yards wide, it is not overwhelming, but is certainly larger than the trout streams we are accustomed to fishing. A few riffles break up the steady flow of the gentle water.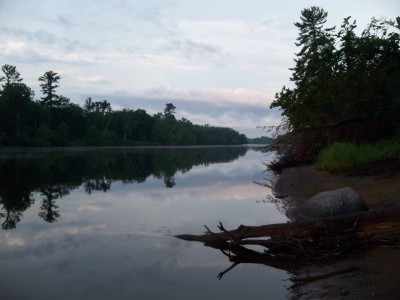 Anyway, the three of us were up and on the water at sunrise. The mist hadn't cleared yet, and added an almost surreal element to the river. Braden tied on a new crayfish pattern that he had been working on, and Noah fished his Persuader on a sink tip. Only five minutes into it Braden hooked up. To say that these smallies fight well is an understatement. Braden's 5 weight was doubled over, and the smallmouth took line a few times. After a good three minute fight and a few spectacular jumps, Braden landed his first smallmouth on the fly, a nice 14 incher, pretty good for his first. That was all the action we had for the morning. A few fish were jumping around us, but no more took our flies.
The mid-summer heat makes it tough, and you really have to be on the water really early and fish for a few hours around sunrise and sunset. I hiked down to the beach for an hour of fishing in the evening. I fished a black wooly bugger, swung in the current with a few strips mixed in. As my mind drifted over the river and the pines, my fly got hammered, and of course I missed it. So, thinking that maybe the fish would think it was stunned, I drifted the fly in the same spot. Again, the fly got hit, a little softer this time, but definitely hit, and again, I missed. This was getting frustrating. All I could do was cast there one more time hoping for the fish to miraculously eat. Sure enough, against all odds, he ate, this time just a little tap. I didn't miss. He took off into the current and gave me a few hard runs before the fly slipped out just before I was going to land him. Great.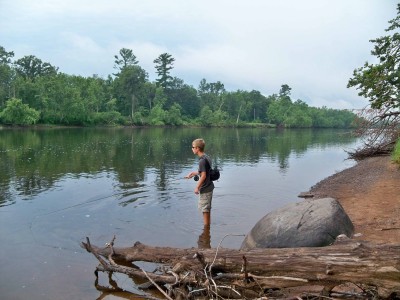 The next morning I slept in a bit, but was on the river at a respectable 7:30. I fished a rocky run between a midstream rockpile, just the place I imagined that a smallmouth would hang out. I had the black conehead wooly bugger on my new TFO 8 weight that I got for my birthday. Around fifteen minutes in I hooked a fish, just a little guy, but still a tenacious fighter, my first smallmouth on the fly. Unlike largemouth, these smallies just don't give up. After that I fished the run hard, waded out to the rockpile, and hooked a few more fish, but none stuck. I swung my wooly bugger in the tail of the run, and hooked into another fish, this one a little better. Again, he was a great fighter, bulldogging around in the current and jumping. I slid him into the net, a respectable 12 inches. I freed him into the river and called it a morning, a great way to spend a few hours on a beautiful Sunday in Creation. I really like this style of fishing, wet wading with a chest or hip pack and minimal gear, although I tend to jam way to much stuff in my pack: ) The wide open river and bigger water was a nice change of pace from brushy trout streams.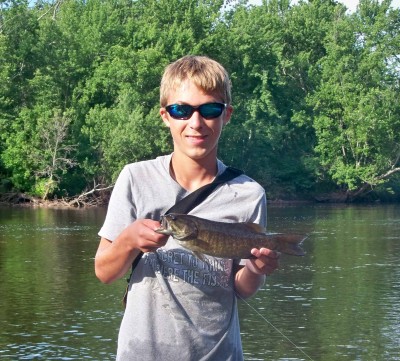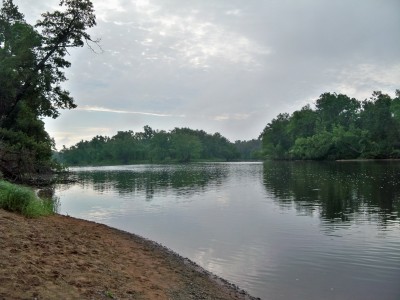 Tight Lines,
Conner