Sunday was our last day at the cabin. Fished for a while in the morning and caught a few bluegills. After lunch we drove over to one of our favorite catfish holes and drowned some worms. Unfortunately, the catfish didn't cooperate with our plans. Instead Noah landed this 25″ monster of a sucker/carp thing. It took him over five minutes to bring in! While it wasn't fly fishing, its still fun to pull in some big fish on spin gear every now and then. I tried a fly for a while, but that didn't work so well.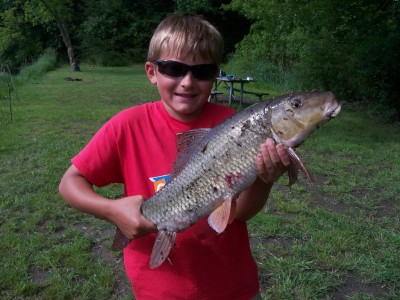 On to some prettier things…
Braden and I had some of the best bluegill fly fishing of our lives in the evening. We took the canoe back to the spot where I caught the bass. Braden caught well over sixty in two hours on dries and poppers, all thick slabs as big as my hand on nearly every cast. The little bay was just filled with fish. Just cast, twitch, and bang, a big bluegill would practically come flying out of the water after the fly. Not a bad fight on a five weight, either.