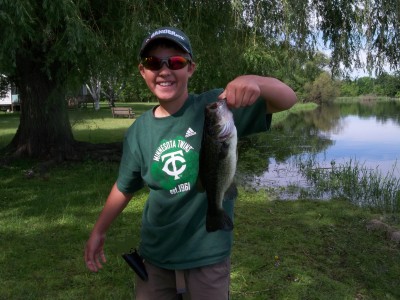 Friday morning started out with a bang. Noah and I were fishing (and catching a few) bluegills from the canoe, and Braden was picking up a few small bass from the shore. I put Noah into position to cast to the end of a dock, and I turned to see Braden's little five weight doubled over.
"Big bass!" he hollered.
I hopped out of the canoe, and ran over as Braden landed this dandy. Snapped a few pictures and Braden removed the big black leech pattern from his grizzled jaw. By northern standards, this is a nice fish, especially in this lake. The impaired water quality, short growing season, and lots of meat fishers takes its toll on the big ones. The majority are under ten inches. So when you find a bigger one, enjoy it.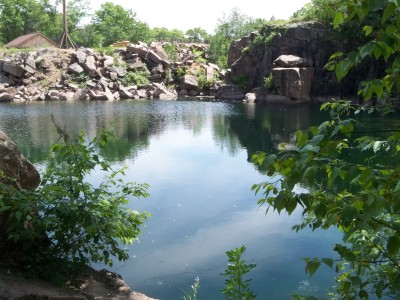 The next part of the day brought us to a favorite spot, a large nature preserve full of abandoned water filled quarries. The biggest one is barely an acre, and over a hundred feet deep. Half a dozen of these ponds are stocked with trout, but the draw is the big bass. Huge bass up to five pounds that thrive in the shallows. I honestly wonder how many stocker rainbows survive their first
year. The quarry hasn't changed much since it was active. Huge grout (big blocks of rejected granite) piles still adorn the shore, and a derrick, complete with fly catching cables, towers over the ponds. Despite all this, the area is still has a somewhat pristine air to it. Aspens and oaks are thick between the quarries, and the water is crystal clear.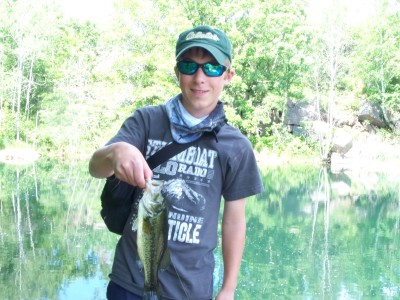 The first quarry we stopped at is filled with an over eager population of big green sunfish. Grandpa, Braden, and Noah each caught around twenty in a short time while I tried to coax a large bass to eat my fly. Not hungry. The visibility was amazing, down to around twenty feet. I could almost count the spots on a small rainbow that swam by. The next pond was a bit larger and shallower, and where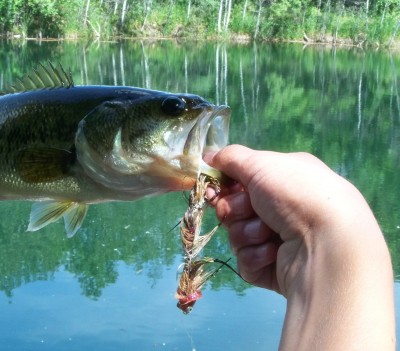 we've had our most consistent bass fishing. There is a cliff on one side where you can cast easily and sight fish to bass all day. I caught a respectable twelve incher and a smaller one on a big articulated streamer. Then tragedy struck. The fly became snagged deep on a rock, and I pulled a little too hard trying to free it. Snap! My eight weight cracked in half. Huge bummer. It wasn't amazing quality, but it worked to throw the bigger flies.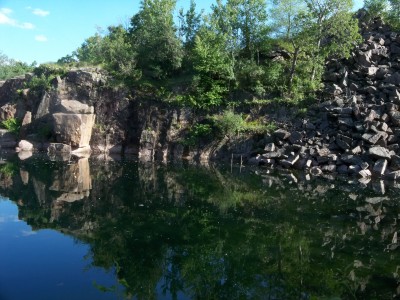 We stopped by two more quarries without any fish worth mentioning. At the last one I tried dredging for trout with streamers. I walked out on a cliff and peered into the water. I could see the boulder strewn bottom, about twenty feet down. I let my streamers sink, a big conehead and a Noah's minnow. I started bringing them in and a big rainbow came out of nowhere and flashed my flies, only to retreat to the depths as quickly as he appeared. I had similar experiences with three more fish, but no eats under the bright mid-day sun.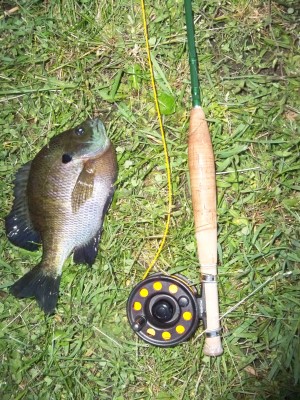 In the evening I got a chance to play with Noah's new 4 weight Cabela's Custom Glass Rod. I had a blast fishing with this tiny rod for big bluegills. The bluegills attacked my gurgler with fury. You can feel every pull and tug right up through the cork. The fish put a great bend in it. For its size (6′ 6″) it cast pretty well, although it can't handle much more than a big dry or cast very long distances. The roll casting was amazing. I can see why some guys are really into glass.