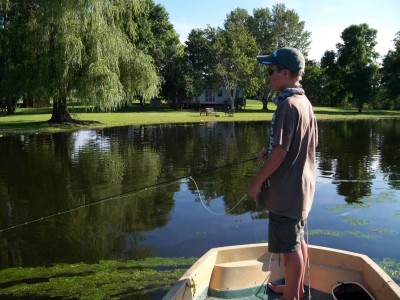 Fun weekend fishing and exploring at the cabin. We got up there Friday afternoon and dug out Grandpa's old fishing row boat. This little boat was pretty awesome for fly fishing. It was nice and stable and had a deck for casting, without any extra hinges, rings, or obstacles for fly line to get caught on. So we launched it and started casting for bass around the lake.  Lately I have been using a Meat Whistle attached with a Rapala (non slip loop) knot for my bassin'. The Rapala knot gives the fly a bit more action, which I think is sometimes necessary for getting fish to strike. Fishing was pretty good in terms of size. We started at the mouth of the river and hit some submerged cattails. Noah took the oars while Braden and I fished. I caught a few little guys and then hooked a what felt like a decent fish. He swam off and came flying out of the water. Thats when we realized it was a big fish. I really thought I was going to lose it when it buried itself deep in the weeds, but I was able to get it toward the top and Braden made an awesome net scoop. Taped out to 17″, around 3-4 pounds, biggest bass on the fly I've caught so far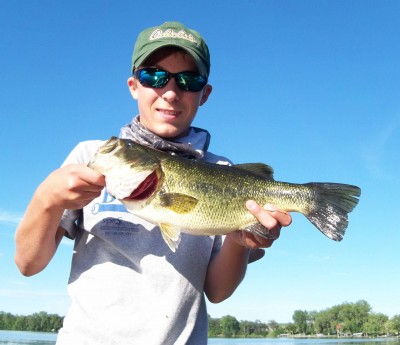 A few minutes after I released it Braden tied into another good fish on a crazy new fly he tied. After that we caught a few small ones but nothing else of any size.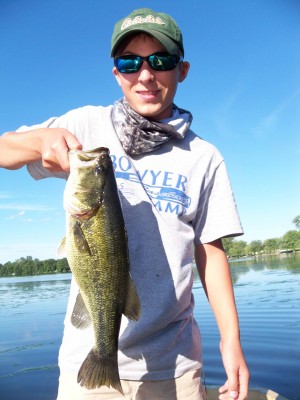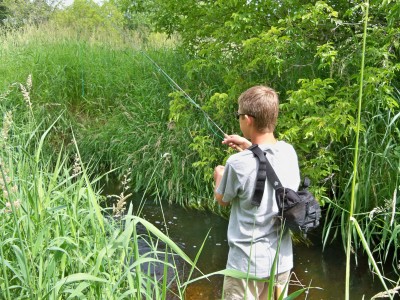 On Saturday we explored a small trout stream. In some spots you could jump accross. The weeds were high and the brush made for some tricky casting, so often the best approach was to get in the stream and wade up to the pools. The stream was very winding, almost doubling on itself many times. We started fishing a short meadow section, and Braden and I each got some action. The brown trout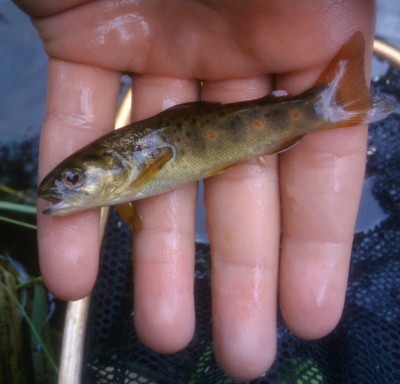 were tiny, but still fun to catch. It is ridiculous how much they can fit in their mouths. We caught all of them on #14 hare and coppers. We then hiked into a wooded section where the stream opened up a bit and had some sweet pools. For some reason we didn't catch or see anything above five inches, although I'm sure there are some bigger fish sitting in impossible to reach snags and pools. Minimalist fly fishing and wet wading on small streams like this is a ton of fun. All you really need is a small fly box, floatant, and a pocket knife, no waders, vest, or other junk. Very clean form of fishing. Ended the morning with one trout, Braden three.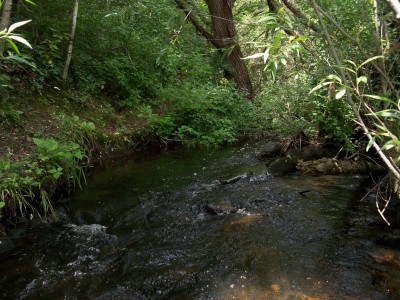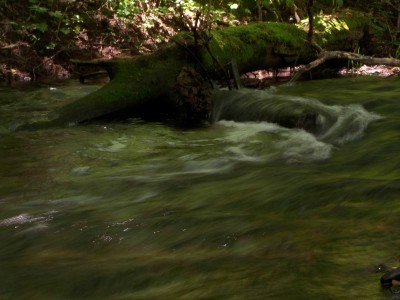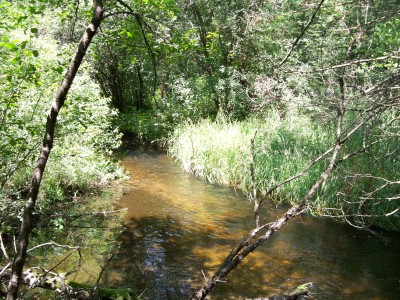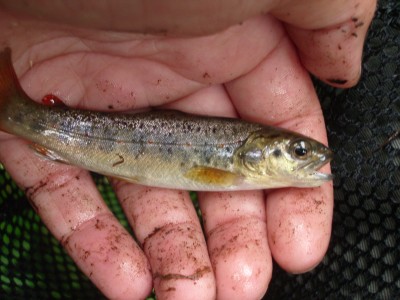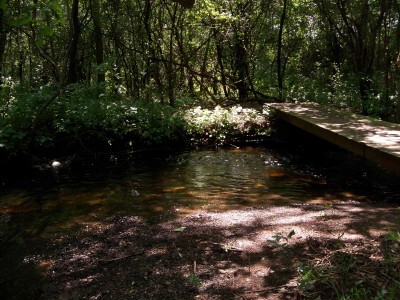 Grandpa and I checked out a river on Sunday. We had been there once before, and I had caught a pike on spinning gear few years ago. A cold stream dumps into the river there, so it is a natural hot spot for fishing. I hooked a beast of a smallmouth, but he jumped and spit the hook. Grandpa had a pike follow his Rapala right to his feet, but that was it. The bass fishing really slowed down at the lake. They have moved into their summer patterns, cruising the deep weed lines. Grandpa hooked up the trolling motor to the row boat, so that made it a lot of fun driving around the lake. Much easier than paddling.
We should be doing some serious trout fishing in the next week or two, so stay tuned. Hopefully the hopper fishing will be starting up. Nothing like trout hammering the big bugs.
Tight Lines,
Conner