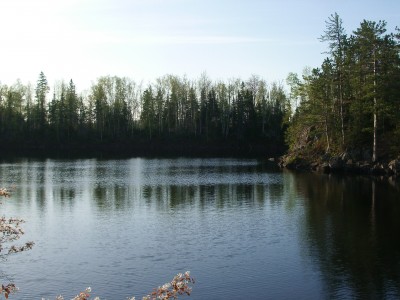 This weekend we trekked up to Ely, MN to get another canoe. If you are not familiar with the area, Ely sits on the border of the famed Boundary Waters Canoe Area Wilderness, known for its pristine crystal clear lakes and amazing fishing (smallmouth bass, northern, lake trout, and the list goes on). It is a no motor zone with back country campsites and portages to endless lakes, most filled with fish, some reaching trophy sizes. Ely is a true canoeing and fishing town in the middle of the woods. We camped on a little brook trout lake on the edge of the BWCAW. While it wasn't actually in the Boundary Waters, it still had a paddle in site and solitude, perfect for one night. It was walleye opener there, so we saw nobody on our little trout lake. Everybody fishes walleye up there and seems to mostly ignore the trout, at least when the walleye are biting.
It was a small lake, only about six acres, fringed with cedars and birch. Big rock faces dropped sharply into the water, and a few deadfall-filled bays broke the contour. Camp went up pretty quickly, and after Andoullie bratwurst over the fire, I headed out in the canoe. The first spot I tried was a point with a steep dropoff right off our campsite. I dredged a Noah's Minnow for a few minutes before deciding to explore a little. The lake was glass calm, and the trees reflected in the evening sun. I spotted a rise and threw my minnow in there. Second cast and bang, a good trout broke me off. Bad knot. Not a great way to start the evening, but it was a fish. A few smaller trout started "rising" (jumping out of the water) so I tied on a royal coachman. I got a small brookie to take the fly, but he jumped and my six weight was just too heavy to keep tension on the barbless hook.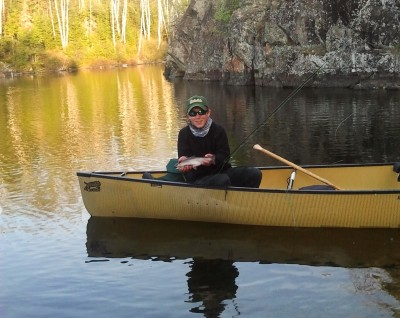 The next morning found me on the water by 5. The paddle across the lake to a woody bay was easy in the calm breeze. Nothing seemed to be happening anywhere. I fished streamers for an hour without as much as a bump, and nothing was rising. Finally I spotted a rise on the far side of the lake, so I paddled over and anchored. A dozen casts later I got jolted. This was a heavy fish. He did some headshakes and dove for around three minutes, taking line multiple times before I brought him to the net. He ran about fourteen inches, and FAT from sitting on the bottom eating minnows and leaches. Silver-gray with flecks of yellow, blue, and red, with stunningly red fins and a nice dark head. It pays to get up early.
This fish was about three years old. Not too many fish reach this size in these small northern lakes. A pair of loons and a single offspring will eat 1,500 trout in a single year, very close to the trout stocking number. Angler harvest and natural causes take more trout, but amazingly there are still quite a few bruisers measured in pounds, not inches. The rest of the morning passed uneventfully. One trout kept jumping on the far shore, but nothing else wanted to eat. All the activity ended by eight o'clock, and we were packed and out before lunch. We should be headed back later this summer for a longer trip deeper into the interior. Bass opener is in a couple weeks, and a trip to the Kinnicinic or warmwater fishing in Wisconsin is in short order, so things should stay lively around here.
Best flies and tactics: #12 olive Noah's Minnow with some krystal flash, or other similar weighted minnow or leech patterns. I fished a floating line, but a sink tip or full sinking line would be a good choice here for fishing streamers deep. Cast to steep dropoffs near weeds, wood, and deeper water. A long, slow strip for leech patterns or short tugs for minnows works best. A small wulff or attractor pattern works well when fish are rising.
Area fly shops: The Great Lakes Fly Shop
Tight Lines,
Conner