Some hatches that have popped off the vice recently:
"Red Hot Chili Bomber"
Hook: #16 dry Thread: 6/0 red UNI Tail: Moose body hair Body: Tying thread Wing: White deer hair or calf tail, tied ausable bomber style Hackle: Grizzly
A (big) Ausable Bomber variation tied for small stream brook trout.
       "Greedo"
Hook:#18-22 nymph Thread: Olive 6/0 UNI Bead: 5/32 gold brass Tail: Brown duck flank fibers, hen hackle fibers, pheasant tail fibers, or whatever else you have laying around Abdomen: Olive Micro Tubing Thorax: Olive hare's ear dubbing Wing bud: Brown goose biot
I tied this one up to imitate the plentiful small BWO nymphs I have been seeing in my home waters. I think the micro tubing does a nice job of getting a segmented body.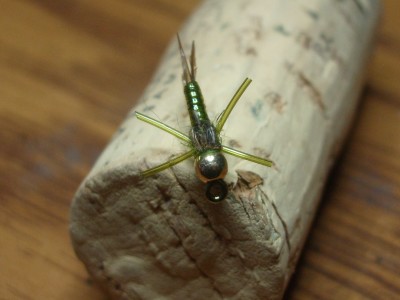 Hook: #12-16 Bead: Gold brass Thread: Olive */0 UNI Tail: Two split brown goose biots Abdomen: Olive Micro Tubing Wingcase: Mottled brown turkey or hen quill slip Thorax: Olive hare's ear dubbing Legs: Olive Micro Tubing
I have been playing around with micro tubing a lot lately. This nymph is basically a copper john with micro tubing instead of wire and some legs. I don't have a name for this one yet. Any suggestions?
I haven't had the chance to fish any of these flies yet, so tie some up and let me know how they do.
Have a happy and blessed Easter!