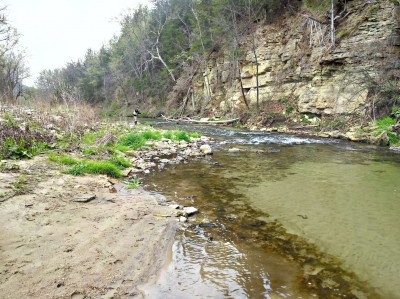 Today we took a friend down to the Driftless Area in search of some trout. It was his first time fly fishing. It was a little chilly, forty five degrees, when we arrived at the stream at 9:30. It definitely felt like March today, unlike two weeks ago when it was in the eighties. I took our friend David upstream while the rest of the guys stayed back and fished another hole. Fishing was slow for the first couple hours. David was casting and mending pretty well by the end of the morning, but the fish just wouldn't cooperate, so we headed back. Same story for Braden, Noah and Dad. I was hoping for a BWO hatch once it warmed up, but it stayed right around forty five almost the whole day.
However, some midges started hatching around noon, which got the fish active. David caught his first trout on a fly, a little brown that ate a copper john. It was such a cool feeling knowing that you put someone on their first trout! I tied on an ausable bomber followed by a hare and copper and a black beauty midge. Two small browns took the midge and a brown in the thirteen inch range came up and slammed the bomber. Braden had a few hits on a streamer, but couldn't coax any to the net. The fishing slowed down after that, so we ate a quick lunch and headed to another spot. I fished this spot last fall and had some decent luck, so I was excited to explore more of it. Almost immediately David got into a nice brown right under the bridge.
This creek was quite sandy, and it took a bit of walking in between pools, but it was worth it. The bluffs made for some picturesque pools and runs cutting through the valley. The fish had moved into the shallow riffles and indicator nymphing worked nicely. I caught four browns up to around eleven inches on a hare and copper. I was fishing downstream when I heard David yelling with excitement. I turned to see his rod doubled over with a nice brown on the other end. Fly fishing is so much fun. Only about three casts later his indicator dove again and he was into a good fish. It gave him a good fight on his four weight. This was definitely the fish of the day, around fifteen inches, not bad for your first day fly fishing:) As Noah said, "I think he will be doing this again."
Best flies for the day:  #14 hare and coppers, #20 black beauty and miracle midges.