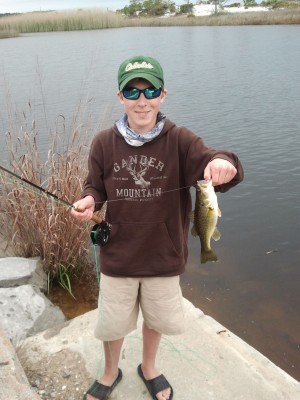 Spring break this year was a blast, although the fishing was a bit tough. Over forty hours in the car brought us to the Smoky Mountains, South Carolina, and Florida. I wish I could say we caught tons of fish, but it was great just to go fishing.
For some reason, ever since I started fly fishing I have wanted to fish in the Smoky Mountains. The videos of brookies smashing dry flies, and the pictures of small mountain streams with pockets and pools just begging to be fished captured my mind. When we drove through them I just had to stop and fish, even for just a few minutes. The weather was not on my side, as it rained almost all day, just enough to prevent fishing. However, there was a brief window of opportunity when the rain lightened as we drove by a stream. A small bead head tempted one small trout in the fifteen minutes I had to fish, but he popped off.
South Carolina brought saltwater fishing in tidal pools and creeks adjacent to a jetty. Redfish would go into these creeks and pools at high tide to escape the dolphins. One problem. It wasn't high tide when we had time to fish. There were still some fish, but it made for a tough day that ended without any fish caught and only a small pod of reds tailing at the other end of a pool for a few seconds.
The fish gave us the hard treatment again on our second day of fishing and kayaking in a salt marsh, but it was not as harsh as last time All three of us tried dredging the creeks and channels with no luck, but I did manage to hook into a hard fighting redfish. I was dragging a rabbit pattern along the bottom of a pool when all of a sudden the line came to life. A strip set later the reel was screaming with a refish on the other end. However, my luck was about to change. After two minutes of runs and hard pulls the line went limp just as I was tiring the fish out. Nothing seemed to be going our way.
The next time I picked up a fly rod was on a brackish lake in the Florida panhandle. Braden and Noah chose not to fish, but to hang out on the beach and I can't blame them. The coastal "dune" lake connects to the ocean for part of the year, but had been closed off for some time. Near the ocean the water was brackish, but it became fresh as it got farther inland. Dredging flies near the outlet didn't pan out, so Dad and I drove farther inland to try another spot. A deep, narrow channel bordered by shallow flats and partially submerged grass greeted us. This looked good. After an hour of fishing various flies the only action was a lazy swat at a small popper. Things were looking grim. At this point I was desparate. Even a small bass would be awesome. I tied on a yellow deer hair bug hoping to catch one. After several casts along the weeds I was rewarded with an explosion on the surface. A frisky one pound largemouth had inhaled the bug. It wasn't the redfish I was hoping for on this trip but it sure beat getting skunked.