The flash bugger is a killer fly for panfish, bass, and smaller pike. It is really easy to tie and extremely productive given the right conditions.   Hook: #12+ Thread: 6/0 any color Bead: 1/8″ copper Tail: 1 generous plume of marabou (any color) Body: Eztaz (any color)    
1. Place the bead on the hook, and tie in your thread at the rear end of the hook shank.
2. Measure the marabou about the size of the hook shank, and tie it in.
3. Bring the thread back to the tail. Strip the fibers from one end of the Estaz and tie it in.
4. Wrap it up to the bead and tie it off.
5.Whip, clip, and there you have it. A killer fish catching Flash Bugger.
You can tie them in a variety of colors. My favorite colors are cotton candy(blue/pink), and watermelon(green/pink). They work best if you let them sink for a few seconds before you start stripping. Strip in short, brisk jerks. My favorite sequence is jerk-jerk-jerk-pause (repeat).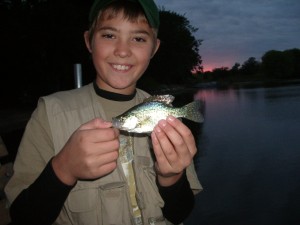 Tight Lines,
Braden