Hit the lake this weekend for some bass and bluegills. The bite was hot, with lots of fish taking flash buggers and small streamers. Bluegills were rising constantly to bugs being blown into the lake. A small dry was the ticket.
My hands were numb as I tied on my fly on Saturday morning. The day started slow, but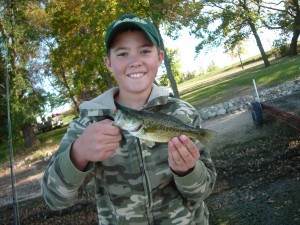 picked up as the sun came out. The fish were in big schools, grabing bugs that blew into the water. Braden was doing quite well with his flash buggers, landing lots of bluegills and a few bass. Noah had a small blue flash bugger on, and was pulling in his share of nice bluegills. I was fishing with a popper, which induced lots of aggressive strikes.
Sunday was much warmer, and the fishing was great. The wind was still blowing, which kept the bluegills close to shore. Small dry flies and streamers worked equally well.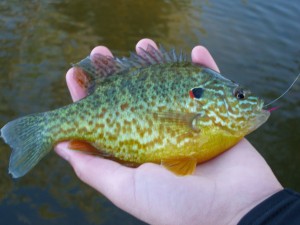 After lunch, Grandpa and I headed to the quarry. Nothing was even moving at the first quarry we stopped at. At the next quarry, my favorite, bass up to two pounds were cruising near the surface. I got a few half hearted follows, but nothing commited. Back at the cabin, we picked up more bluegills, and Braden caught his first pike on a fly…
This is our last weekend of the year at the cabin. Great weekend.
Conner