The day started with rain. Quite a bit of rain. Thankfully, it cleared up later in the morning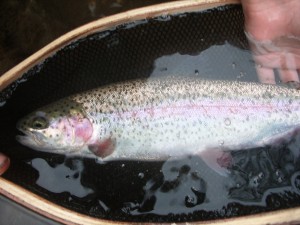 and we were able to fish for a few hours. Noah set out with a goal of catching one of the recently stocked rainbows he had seen in the cliff pool. While he was busy casting to the rainbows, I tried to pick off a few trout that were barely breaking the surface eating something minuscule, but they were not in the mood to eat. Noah had one of his Noah's Minnows on and was moving a few fish. He even had a take, but in the excitement set the hook a little too soon. After fishing the pool for a good half hour with no results, Braden asked if he could try a few casts with Noah's streamer. Noah, being a very nice fellow,
hesitantly handed the rod to his older brother with the instructions of, "Three casts!".  On the third cast, at the end of the retrieve just as Noah put a hand on the rod to take it back, bang, a rainbow inhaled the fly. Braden flew into action, and set the hook. The trout did a few headshakes and runs. The boys shouted with hapiness as the rainbow went into the net. It measured an honest 16″, which turned out to be the biggest fish of the trip! It rained on and off throughout the rest of the day. In the breaks, Grandpa joined us to check out a small feeder creek that holds wild brookies and browns. It was a gorgeous piece of water. The stream was small, but had some great holes and runs. I was fishing an undercut, and a 15″ brown swam through, a big trout for such a small stream. Unfortunately, we couldn't tempt any trout to take our dries, so we returned to camp. The evening dry fly fishing was again really good. Braden and I fished the same run, this time with headlamps. I rose four browns, up to ten inches, on the same Quill Gordon that I used last night. Braden caught one nine incher, but then his line got in a really bad tangle that he could not fix in the dark. Bummer. As it would turn out, we were lucky to get two nights of quality dry fly fishing in because of all the rain. Another great day on the Whitewater!