The Whitewater River in southeastern Minnesota is one of the best trout streams in the state with browns, brookies, and rainbows all in the Middle Branch. For five nights we camped along the banks of this great stream. Fish were caught. Fun was had.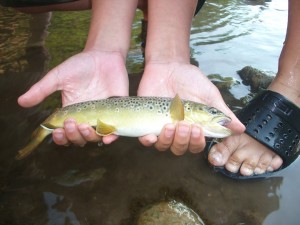 Trout were rising in the cliff pool next to our site around 8 on Thursday morning. Braden delicately set his Quill Gordon in the feeding lane of a rising fish. He raised the rod on a splashy rise, a flash of pink and silver, and the tippet snapped. He grabbed my rod, rigged with the same fly, and threw it back out. After a few drifts, he finally got another take. A 10″ brown, his first on the fly, came to hand. Noah grabbed the rod, and on a good drag-free drift caught his first trout.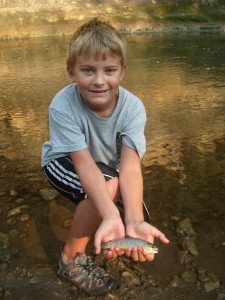 The trout were stacked up along the edge of the cliff gulping bugs like it was the end of the world. It was my turn to fish the pool next. By that time Braden had already tied on another fly and started to fish the riffle that dumps into the pool. As I was working on a fish that was steadily rising in the tailout, Braden shouted to grab the camera. A feisty little brown was in his hands after a brief fight. After the release, I returned to the tailout, where the trout were still rising. The drift had to be drag free and right in the feeding lane. It took few drifts, but I was able to get a good one and caught a gorgeous brown, my first in Minnesota.
Breakfast ended the fishing for the morning. Later in the day I fished nymphs in the same pool and caught one brown and lost another. Grandpa, who was camping a few sites down, came with me and checked out a rip-rapped section of stream that held lots of fish. We watched them swimming around in a long run from the bridge. I raised two fish to an ant, but they came unbuttoned shortly after they were hooked. Some of the best fishing was in the last light of the day, when the trout again rose with reckless abandon. The three of us returned to the riprapped section I had fished earlier. From the bridge we could spot trout rising in the long, slow run below a plunge pool. The same fly we used earlier in the morning proved to be the ticket…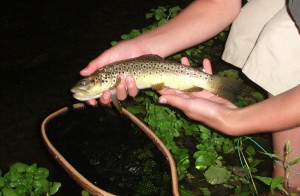 This 12 incher was rising right behind a rock near the bank. Braden caught the next fish, a nice brown holding around the same place.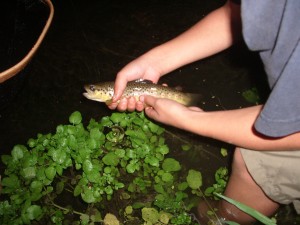 Very soon it was too dark to fish without headlamps, so we hit our sleeping bags after a great first day of fly fishing on a river full of trout.
Tight Lines,
Conner