Dad and I left the house at six in the morning to do a little small game hunting and trout fishing. A breakfast stop and two hours later we were at the parking lot. The river was a good hour's hike away through steep ravines, bluffs, and thick brush. We hunted our way there. The river ran through a canyon with steep cliffs on one side and woods on the other. Trout were rising occasionally in a deep, slow pool next to a cliff. I tried catching them with an ant, but they were frustratingly selective. I only had one small trout rise to my ant after an hour of fishing, and I missed it. I got the thought that nymphing would be much more productive than dry flies. Sure enough, a few minutes after I switched, I caught a small brown on a Hare and Copper.
This stretch had a lot of fast water, with lots of rocks and boulders, perfect for nymphing. Unfortunately, Dad's spool had fallen out of his reel during the hike, so he didn't fish much. We decided to pack up and hike back to the car and scout and fish some more land. By the time we got back to the car, it was three o'clock. The next branch we hit was sandy with a few deep pools and some faster runs. It was really easy to wade with my rubber boots in the cooler weather. Just two weeks ago we were wet wading in shorts. I immediately caught a decent brown in a deep run…
 I hiked a little ways upstream and fished a few more runs before I caught another smaller brown. It was feeding in the middle of a run.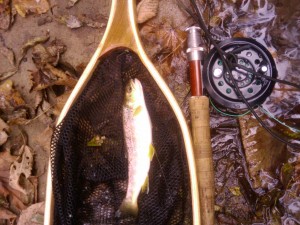 I got the idea of catching a fish in all three branches just for fun, so back to the car we went. The third branch had a mud bottom in the pools and lots of small rocks in the riffles. I spotted some larger trout in a pool from the bridge. However, after repeated casts right over them I could not get a strike. I moved on to find some hungry fish. I threw my pheasant tail next to a boulder in the middle of a run. On about the third cast, my indicator stopped. I gently set the hook, and the trout shot into the faster current and tried to spit the hook. My pheseant tail held, and I gently slid the trout into the net. It was about twelve inches, one of the bigger fish of the day.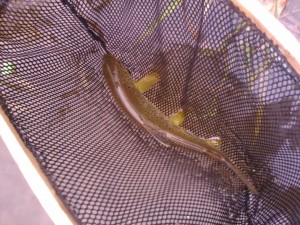 We left right after I caught that trout because I needed to make a material stop. An awesome nine hour day of trout fishing and hunting!
Tight Lines!                                                                                                                 Conner