Just got back from a week long trip to Door County, WI.  For the first four days we primitive camped way up on the tip of the peninsula. The salmon fishing was amazing, but we didn't catch any smallmouth. I caught one small perch on the way there, but that was it. The smallies were just too deep to reach without a boat. We enjoyed some mountain biking and spectacular sunsets.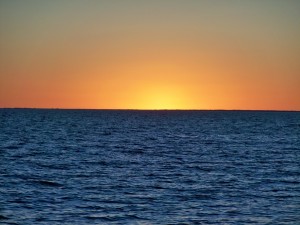 A cottage in the middle of the peninsula was our home for the rest of the trip. Our salmon fishing trip was on Thursday with Why Knot Charters. We awoke at "dark thirty" and began the fourty minute drive to the marina. By 4:15 we were on the boat. Our captain, Zach Burgess, set up about seven miles out. Just as he set the last rod the fish started hitting. I lost one, but Braden boated the first fish, a nice 10 lb. king. I was next, and caught one about the same size. For the next hour we were four for twelve, a very bad percentage. However, the fish started sticking and we landed most of the rest. I landed a 37″ king estimated at 15 pounds after an impressive battle, and Dad got a 39 incher. Braden and Noah each caught 4, a mix between kings and rainbows. Mom got two kings, and Dad also got two. I ended the day with three fish, two kings and a coho. A nice total of 15 fish. Our guide was great, and put us on lots of fish.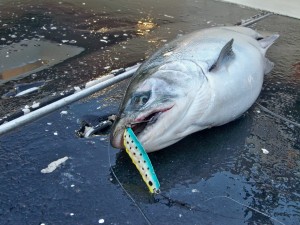 On the way home we stopped at a trout stream in Shawano County, WI. There was a lot of great habitat improvement and lots of willing brookies to slash at our hoppers. Unfortunately, we did not land any, but had lots of fun with the aggresive dry fly action. Everyone had lots of hook ups. Noah pulled one to the rocks, but it popped off just as he went to grab it. Hopper time is such an awesome time to trout fish. A few chubs also came to hand.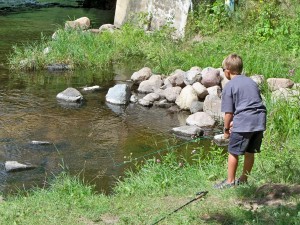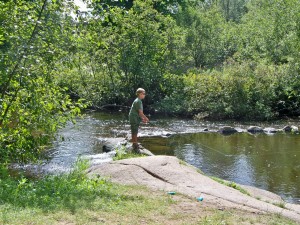 This weekend we are headed up to our cabin. A camping/trout trip is also being planned for few weeks.